ramzan special chinese samosa
ramzan special chinese samosa
Ramzan special chinese samosa  . Delicious chinese samosa  should be an important part of your affetari . Try this recipe at home and enjoy.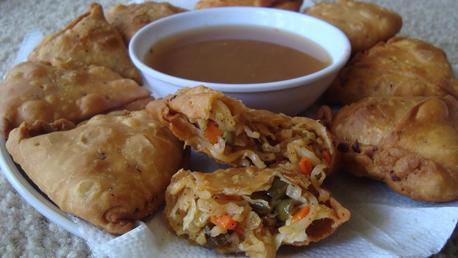 1 cup Noodles (boiled)
1 carrot
2 onions (sliced)
2 cup cabbage
1 tsp Soy Sauce
½ tsp Ajinomoto
2 tbsp Oil
Salt to taste
Oil for deep frying
For Dough
1) Water
2) 1 cup Maida
3) ½ tsp Salt
4) 2 tbsp Oil
1. To make its gravy , heat some oil in a pan, and add cabbage, onions, carrot and ajinomoto to it. Cook till the vegetables become tender and soft.
2. Now add noodles, soy sauce and salt to the above. Stir it carefully .
3. After 2-3 minutes , put the stove off  and allow it to cool.
4. To make dough, mix maida, warm oil and salt in a bowl. Add water to the above gravy till the dough becomes a slightly tough .
5. Cover the dough with soggy cloth and keep it aside for 15-20 minutes for better dough mixture .
6. After the due time, take the dough and roll out small circles of 5 or 6 diameters from it.
7. Cut all  circle into two halves and run a moist finger along the diameter. Join the edges of each semi-circle to make a cone .
8. Place a tbsp of gravy in the cone and seal third side as above.
9. Repeat the same procedure for the remaining circles.
10. Now deep fry these  cones in oil on low to medium flame till light brown.
11. Garnish it now chinese Samosa is ready to eat. Serve hot with tomato ketchup .
For more recepies moonlightforall.com
Tagged:
Chinese
Ramzan
recepies
somosa
Special