hadees nabwi about ramdan
hadees nabwi about ramdan
hadees nabwi about ramdan. Ramadan is a great blessing of ALLAH Talla. It's a great month. Muslims offer prayers and do good deeds and try their best to get the blessings of ALLAH. Everyone wants to do best in this month. Muslims keep fasting in this sacred month of Ramadan. It is said that this month is the great time to do good deeds and abstain from bad and evil deeds. The people whom did good deeds get the best reward in this world and the life here after. So it's a best time for Muslims to get ALLAH's will. Muslims likes this month of fasting. We provide you the best ahadees nabvi in picture format. We also give you opportunity to read online quran, and also listen to it.
hazrat sahel bin saad say rawayet hai kay app ﷺ nay farmaya
"janat main aath darwazay hain unn main aik darwaze ka naam reyaan hai iss darwazay say wohi jain gay jo roza rakhtay hain"
Ramzan is  a month of blessing for muslim so fast for the sake of Allah and for your betterment. Moonlightforall.com provides you the best hadees nabwi walllpapers, best kalmay wallpapers, beautiful prayers (dua) islamic quotes (aqwal of hazrat Ali R.A, hazrat Abu bakr sadique R.A, hazrat UmarR.A, hazrat usman R.A) and also others quotes of sufi saints. These are the beautiful pictures of Islamic wallpapers of your choice which you want from internet.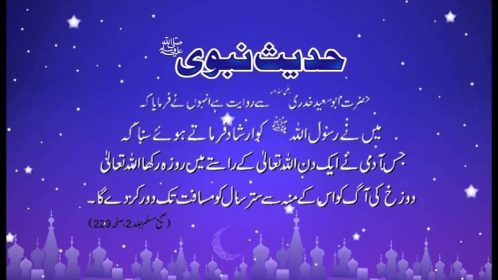 hazrat abb o saeed say rawaet hai unhon nay farmaya keh main nay rasool ALLAH ﷺ ko irshad farmatay hue sunna keh
"jis admi nay aik din ALLAH talla kay rastay main roza rakha ALLAH taala dozakh ki aag koo uss kay munn say satar saal ki musafat par rakhay ga"
We also give you information about different Islamic mosques.You can also see islamic videos on our website like 99 beautiful names of ALLAH and 99 beautiful names of Prophet Mohammad PBUH, names of quran 30 paras.You get wonderful Islamic things on our website. This site is only for you. For more islamic things Islamic wallpapers Islamic quotes of different pious peoples, Islamic kalme wallpapers and Ahadees of last Prophet MUHAMMAD peace be upon visit moonlightforall.com
Tagged:
ahadees
islamic
ramdan
wallpapers