Simple Tips For Preventing Acne
Simple Tips For Preventing Acne
Simple Tips For Preventing Acne . Acne is a major problem not only in past but also present times . Every women wants to look beautiful . But acne and pimples lower their beauty . When pimples and acne appears on their face . Their face looks ugly . And they avoid people and gathering . In today post  I will tell you some tips for removing acne  on your face . These are home remedies that are very easy and homemade and easily available at market .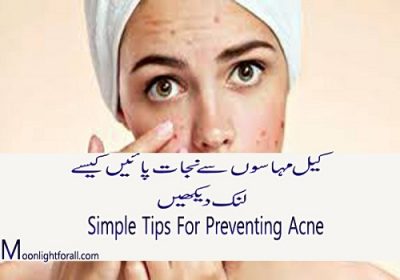 Reason of Acne
Some dermatologist ( Skin specialists ) said that there are many reasons of Acne on the face . But main reason of acne is eating too much oily & fried food  .  Popular skin specialist  & herbalist said :  There are small holes in skin which are attached with oil glands  called Sebum . When the contact between sebum and skin destroy  it causes acne . This disease is equally present in men & women.Because of acne problem  your face looks  ugly . Acne  mostly occurs in pregnant women and during hormonal  changes in girls and boys .If these spots are not treated on time and  it is touched with fingers. Then it leave ugly spots on your face .  Acne problems are mostly seen in people with oily skin.People with oily skin should drink 8 glass of water.They should wash their face 10 to 12 times .
Most prominent reasons of acne are :
Sweet dishes like chocolate & sweets .
Lower blood level is also a cause of acne .
Hormonal  imbalance .
Oily & spicy food and less intake of water .
use of low quality creams and less cleaning of skin.
If spot appears on the forehead then  it means there is a problem of liver . To overcome them use less sweets and drinks . Drink more water . and eat less oily food . Soft drinks causes lactose intolerance which is a type of  allergy  also causes  spots on your skin . If we avoid these things we overcome acne on our face .
If your food is not digested well and you are smoking  . Or using mobile and dirty cushion also  causes acne. So wash your cushion once in a week . Wash mobile covers daily to overcome acne on cheeks . Acne on chin & jaws is due to hormonal imbalance .To overcome acne use probiotic foods .
Dermatologist said with little care and treatment acne is removed .
Natural remedy for Acne :
Take black pepper powder . Mix water in it and rub on your face.After sometime wash it .
Second Natural remedy for Acne :
Take multani mitti & turmeric .Mix  rose water in it and rub it on your face . Leave it for 15 minutes then wash it .
Result
I hope these remedies will help you . you should also consult  dermatologist for better results .
Get  more  by visiting this link Beauty tips
Tagged:
Acne
Beauty
Tips