Powdered Peanut Butter Oats
Powdered Peanut Butter Oats
Powdered Peanut Butter Oats Recipe. This delicious recipe is good for diet conscious people who are always dieting during the year . It is delicious and also light hearted .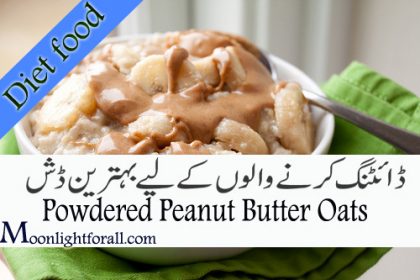 It contain peanut butter and oat which are very much healthy and light in weight and last but not least ingredient oat . Oat is specially for people who are diet conscious . Oat is also very  important for people with high blood pressure , cholesterol and diabetes . so try this recipe you will enjoy it .
Ingredients :
1/2 cup oatmeal
1 tbsp powdered peanut butter
2 tbsp water
1 cup milk
1 tbsp brown sugar
Banana for decoration
Procedure :
Mix 1 tbsp of  powdered peanut butter with two table spoon of water .
combine Milk with oatmeal and peanut butter . Top with brown sugar and banana for taste and eat it
I hope you will enjoy this recipe very much .Try it at home and get benefits .
Get more Recipes & Diet and healthy recipe
Tagged:
butter
diet food
Peanut
Recepie