Mexican omelet  recipe
Mexican omelet  recipe . Mexican omelet recipe is very healthy and delicious recipe of breakfast . It is loved by all age people and is very much easy to made and in less time with simple ingredients . It gives  unique taste in breakfast recipes.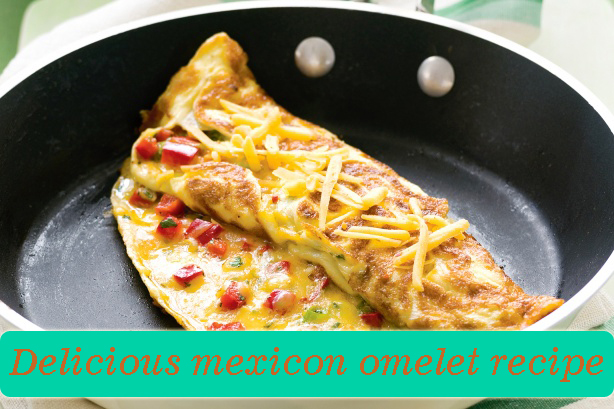 Ingredients
Salt main ingredient (as per taste )
Red capsicum (roughly chopped ) 1
Green capsicum  (roughly chopped ) 1
Eggs 6
Onion chopped 1/3  cup
grounded fresh pepper 1/2 tbsp
Black olives 4 to 5
Chopped tomato 1
Chilli powder 1 tbsp
Chopped green chilli 3 to 4
Cumin crushed and roasted
Butter 4 tbsp
Oil  2tbsp
Cheddar cheese crushed 3/4 cup
Parsley  4 tbsp
Procedure :
So lets start our omelet recipe . First take a large mixing bowl and whisk eggs in it . Add 1/2 cup cheese from 3/4 cup cheese into eggs along with all spices added in ingredients .
Combine all vegetables . Take a pan add butter and all vegetables in to it and saute vegetables for 1 minute. Now add these saute vegetables in eggs mixture and mix them well.
Heat butter or oil in fry pan or grill pan and pour half egg mixture into it and cook for two to three minutes  until it set . Now add the remaining cutted vegetables into the omelet and cook it until it becomes golden brown. You can also roll it by adding remaining cutted vegetables.
Pour the omelet into a plate and garnish it with remaining cheese and serve this delicious hot mexican omelet. To get more delicious recipes visit moonlightforall.com
Tagged:
easy recipes
recipes