How to Make Money on YouTube as a Vlogger
How to Make Money on YouTube as a Vlogger
How to Make Money on YouTube as a Vlogger. Vlogging everyone who is searching internet is familiar with this world . As world vlog indicates that its a video log or video blog . Most authenticated and best way of earning money from youtube is vlogging . You earn a lot of money at home with vlogging . With increasing use of internet social media and youtube every person want to share their point of views and opinion on any topics through different ways and best way is vlogging through youtube which not only share your opinion with the world but also make it easy for you to make decent money at home .
You should follow some simple steps to make money from vlogging . I share these simple tips with you in this post . You should surely get best points and earn decent money at home .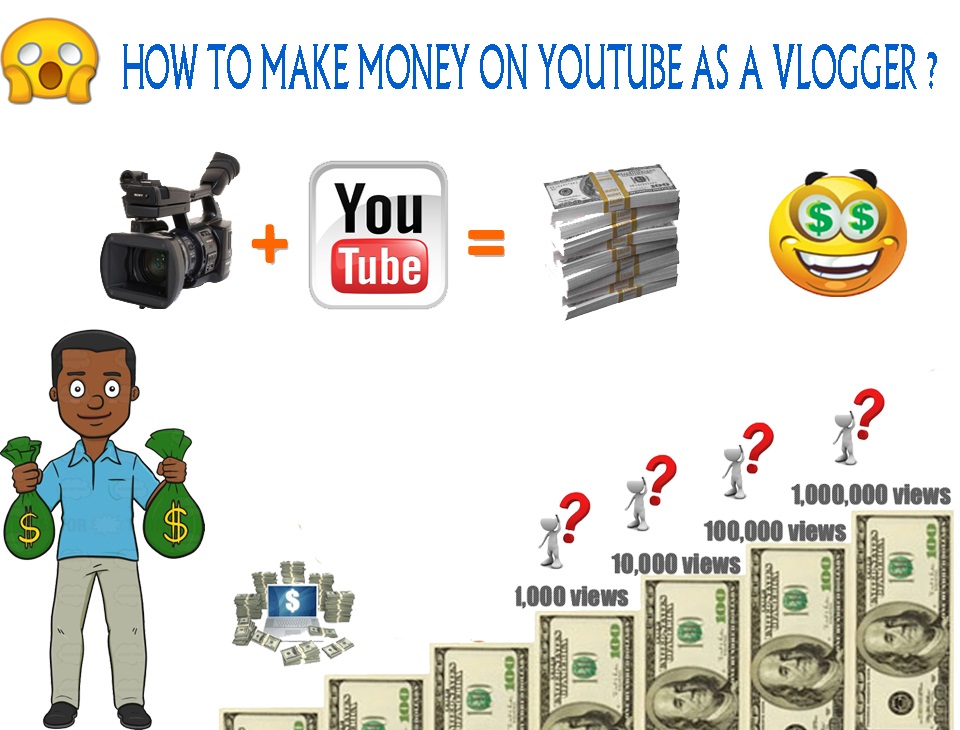 First of all you should have some basic knowledge of vlogging . You should be expert in some topics like opinion about political topics or have good skills in cooking or you have some unique ideas to share with the world then youtube is the right place to share your best and unique ideas . Choose topic of your own interest and gather knowledge about this topic .You can also make vlogs of your daily routine if it is interesting and adventurous . Share unique videos and don't copy anyone else's ideas otherwise you can't get attention of visitor and making money is difficult for you . You can only follow steps of some good vloggers on youtube but don't even copy their video or video and subject make style of your own which is unique and very presentable .
Now its time to create or open a channel on youtube . It is easy for you to make a channel on youtube if you have your gmail account of google . You only go to youtube and sign in with that gmail address an make a channel then give a unique and attractive name to your channel . Next step is to make at least 10 to 20 good videos of your own with your skills .
Make sure your video quality is very good and video is interesting . Use a good mobile camera or a good camera of best result for this purpose . Also keep in mind that while editing your video use  good editors with different styles and also use copyright free music for your video so that your video is safe and you are free from the word  copyright claim ..
Final but not last step is to upload video on youtube . These 10 or 20 videos are not enough you should at least upload one video in two  days so that your viewers always get latest videos of you channel and glued to your channel and entertain themselves . Be active on your channel .Set video thumbnails , avatars and banners for video.
When your channel is active start your campaign  of marketing . Put your videos on social media make groups related to your channel on facebook and post your videos for your facebook friends and share your ideas with them . Also post your work on other social sites like , twitter , google plus and much more . Once your channel is popular among youtube community and get good reputation .Try for becoming youtube partner.  You have only few thousand views to do this and some videos on your channel . It's the time to make some good earning from youtube.
Apply for adsense and youtube will allow you to display ads  on your videos . This is the easiest way of earning money on youtube . In beginning you cannot get much but as time passes and you get more subscribers and viewers on videos . You see you income is increasing day by day .  5 Other EASY WAYS OF EARNING ONLINE AT HOME
Tagged:
5 EASY WAYS OF EARNING ONLINE AT HOME
EARNING MONEY ONLINE FROM YOUTUBE