Herbs good for skin
Herbs good for skin. For good and beautiful skin blood flow is very necessary for which steam plays an important role . Steam taken from natural products increase face freshness and beauty . Steam remove unwanted and dirty particles from skin pores . These are dust and dirt particles that enters into skin pores . By removing these particles skin shines and looks beautiful . steam of herbs play an important role in making your skin shiny and beautiful . According to specialist steam taken daily make skin glowing and shiny . Women with dry and crack skin steam is  a best tonic . It make their skin attractive and beautiful . Women with oily skin should take steam daily for their best skin health . On the other hand women with normal skin should take steam 1 time within a weak .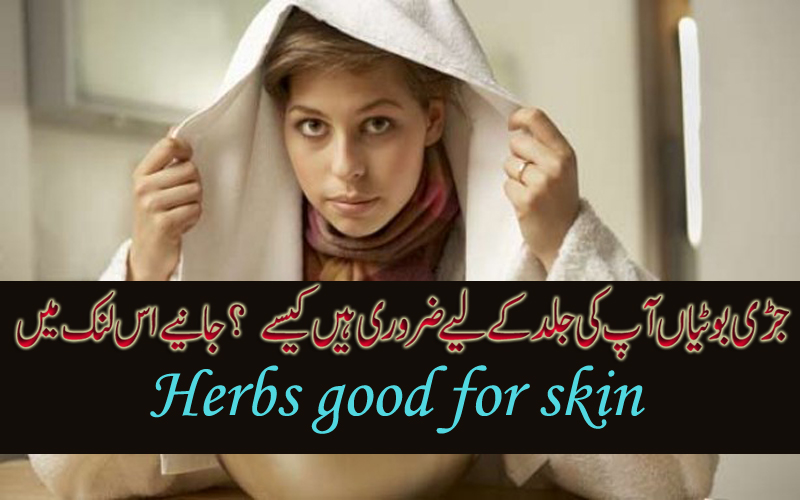 Women with dry and cracked skin should use herbs in steam water . Take a pan boil water in it and add chamomile dry flowers rose flower dry petals , 1 tablespoon almond oil , 5 drops rose oil and 5 drops sandal oil in it . Now leave it  for 5 minutes and then take steam of this water . Dry petals of rose give peace to your dry and unhealthy skin and chamomile make your  skin complexion better and also make it soft and shiny and almond oil give nature moisture to your skin.
 For women with oily skin steam is also very important . Take warm water and add rose merry leaves parsley and mint leaves in it . It is good for oily skin .Lavender oil is also good for good and healthy skin . For steam take water in a pan add 1/4 cup rose merry dry leaves 1/4 cup parsley leaves , 2 tablespoon dry mint leaves crushed last but not least add 10 drops of lemon juice in it . You get better results .
For normal skin women steam is necessary . Take a pan and add water in  it and also add marigold flower petals 1 teaspoon , chamomile dry leaves, 1 tablespoon raspberry leaves ,1 tablespoon mint leaves and strawberry leaves in it  and boil it for some time .Then take a towel on your head and take steam of this water .
 After  taking steam use  " toner " .This is used for removing unwanted and unhealthy particles from your skin and recharge dead cells of your skin and helps to keep your skin pores closed . Toner should be choose  according to skin type. For dry skin after taking steam apply milk with cotton . milk made your skin soft and glowing . Good smelled natural herbs and flower made oil is not only good for skin but also provide peace and refreshment to your muscle also. Rose merry leaves remove bacteria and fungus from your skin .So it is proved that herbs are necessary for your skin health with steam . It have no negative effect on your skin  and your skin is more shiny and beautiful . Get more beauty tips in link beauty tips 
Tagged:
beauty tips
skin care