Zahor e Noor e Muhammadi PBUH Part 1
Zahor e Noor e Muhammadi PBUH Part 1
Zahor e Noor e Muhammadi PBUH Part 1.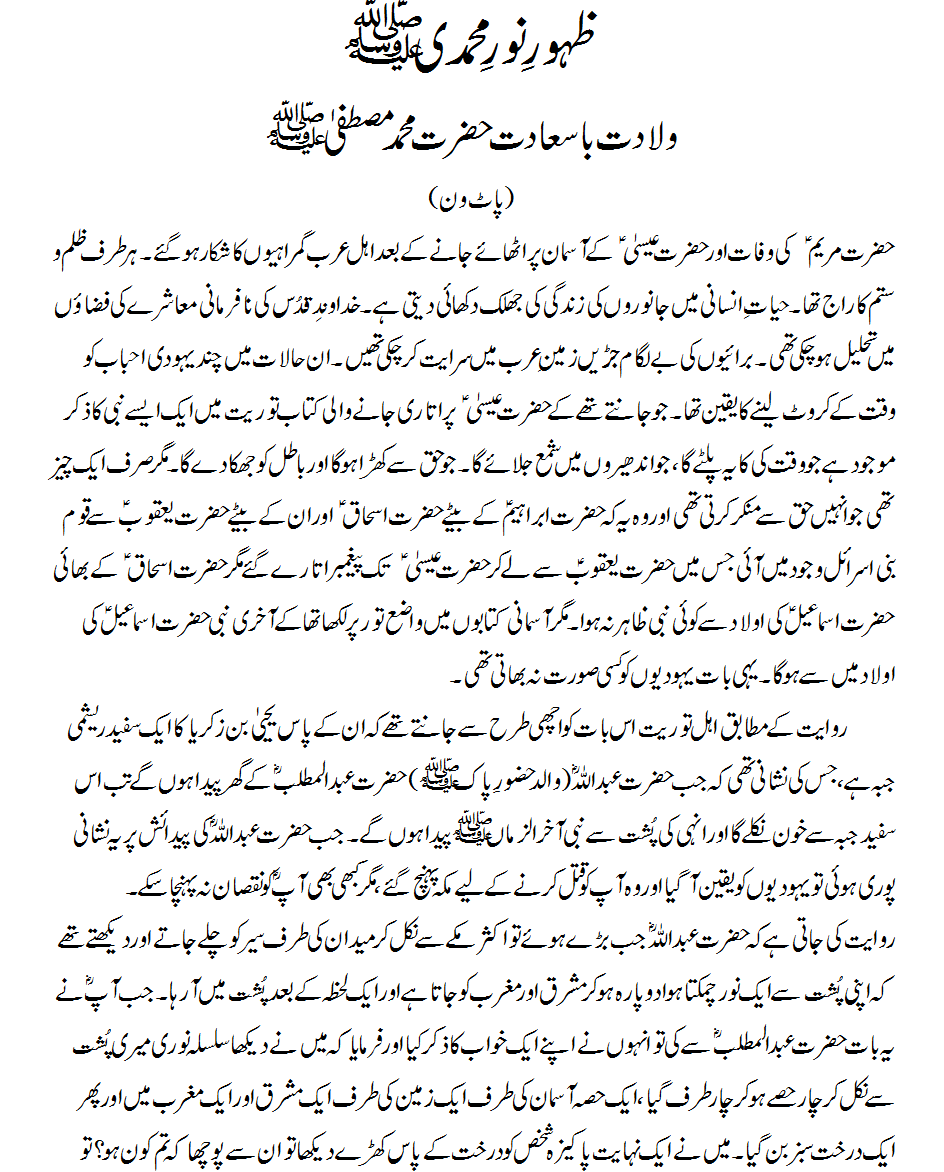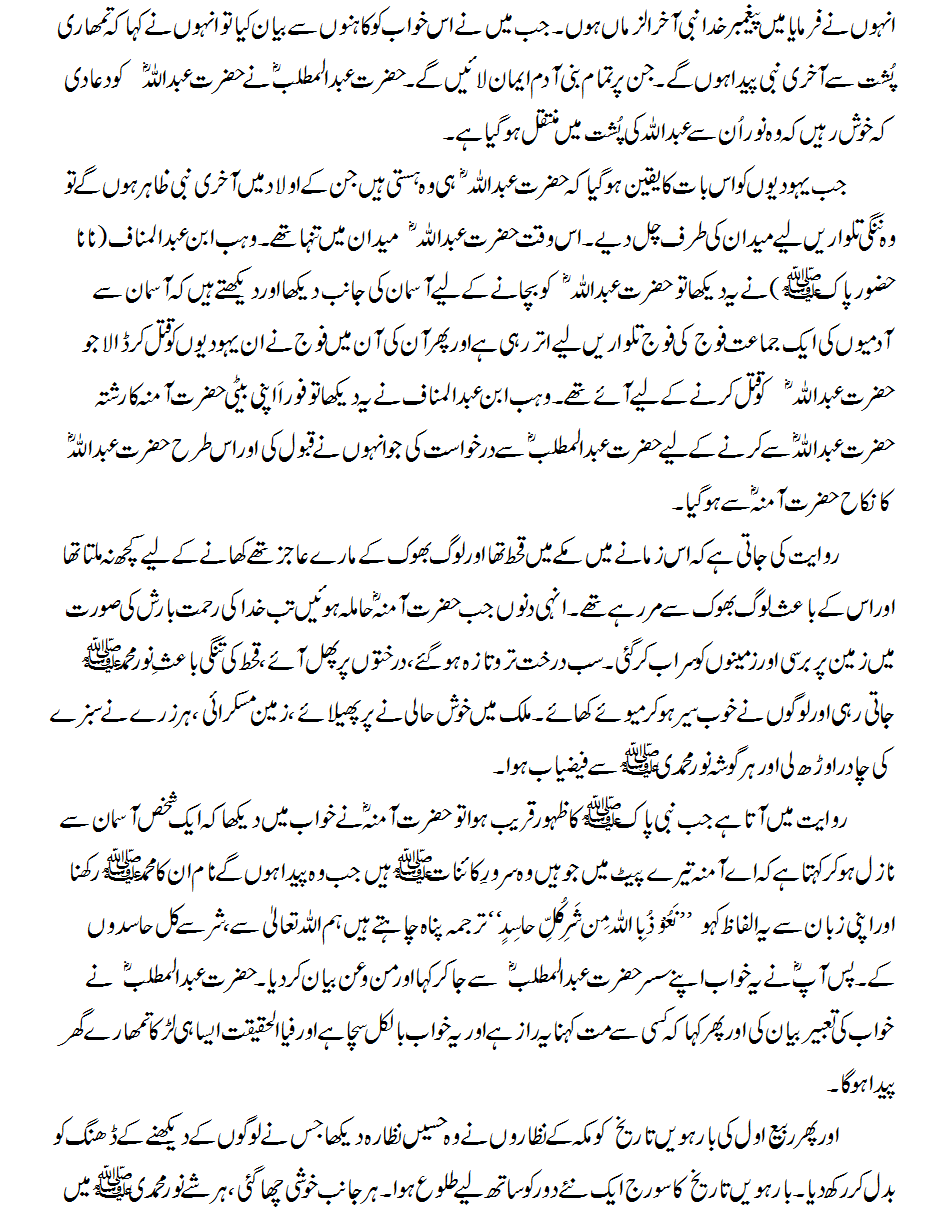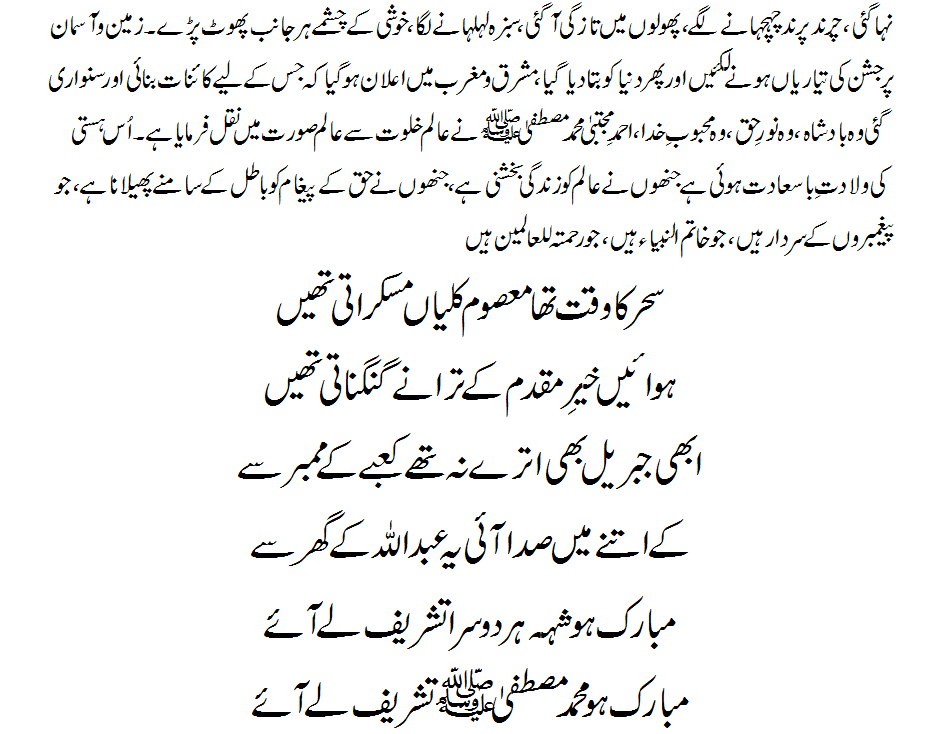 Zahor e Noor e Muhammadi PBUH Part 1.
Wiladat-e-basaadat Hazrat Muhammad Mustafa (PBUH)
(Part one)
Hazrat Maryam AS ki wafat or Hazrat Issa AS kay asman par uthaye janay ke bad ahlay Arab gumrahion ka shekar ho gaye. Har taraf zulm-o-sitam ka raj tha. Hiyat-e-insani main janwaron ki zindagi ki jhalak dikhai deti hai. Khuda wand-e-Qudas ki nafarmani ma-asharay ki fazaon main tehlil ho chuki thi. Burayion ki belaggam jarain zamin Arab main sarayat kar chuki thin. In halat main chand Yahodi ahbab ko waqt kay karwat lene ka yaqen tha. Jo jantay thay ke Hazrat Issa AS par utari jani wali kitab Torah main aik aisay nabi ka zikar mojod hai jo waqt ki kaya paltay ga jo andheron main shama jalaye ga. Jo haq say khara ho ga or batil ko jhuka day ga. Magar sirf aik chez thi jo unhain haq say munkar karti thi or wo the kay Hazrat Ibarahim AS kay bete Hazrat Ishaq As or un kay bete Hazrat Yaqob AS say qom bani Israel wajod main ai jis main Hazrat Yaqob AS say le kar Hazrat Issa AS tak peghambar (Prophet) utaray gaye magar Hazrat Ishaq AS Kay Bhai Hazrat Ismail AS kii olad say koi nabi zahar na hua. Magar Asmani kitabon main wazay tor par likha tha kay akhari nabi Hazrat Ismail AS ki olad mian say ho ga Yehi bat yahodion ko kisi sorat na bhati thi.
Rawayat kay mutabiq ahlay torah iss bat ko achi tarha say jantay thay keh un kay pas Yahyah Bin Zikriya ka aik safaid reshami jubbah hai, jis ki nishani thi ke jab Hazrat Abdullah R.A (walid-e-rasool Pak (PBUH) Hazrat Abdul Mutlib R.A ke ghar paida hon gay tab iss safaid jubbah say khon nikalay ga or inhi ki pushat say Nabi akhar-ul-zaman peda hon gay. Jab Hazrat Abdullah R.A ki pedaish par ye nishani pori hui to yahodion ko yaqin agyaor wo ap ko qatal karnay ke lie Macca pohanch gaye, magar kabhi bhi ap R.A ko nuksan na pohancha sakay.
Rawayat ki jati hai kay Hazrat Abdullah R.A jab baray hue to aksar Macca say nikal kar medan ki taraf sair ko chalay jatay or dekhtay thay ke apni pushat say aik noor chamakta hua do para ho kar mashriq or maghrib ko jata hai or aik lehzay ke bad pushat main araha. Jab app R.A nay ye bat Hazrat Abdul Mutilb R.A say ki to unhon nay apnay aik khawab ka zikar kia or farmaya kay main nay dekha silsala noori mere pushat say nikal kar char hissay ho kar char taraf gaya, aik hissa asman ki taraf aik zamin ki taraf aik mashriq or aik maghrib main or phir aik darakhat sabz ban gaya. Main nay aik nahayat pakiza shakas ko darakhat kay pas kharay dekha to un say pocha ke tum kon ho? To unhon nay farmaya main peghambar e khuda  Nabi akhar-ul-zaman hun. Jab main nay is khawab ko kahnon say beyan kia to unhon nay kaha ke tumhari pushat say akhari nabi peda hon gay. Jin par tamam bani adam eman lain gay. Hazrat Abdul Mutilb R.A nay Hazrat Abdullah R.A ko dua di keh khush rahain keh wo noor un say Abdullah ki pushat main muntaqil ho gaya hai.
Jab yahodion ko is bat ka yaqeen ho gaya keh Hazrat Abdullah R.A hi wo hasti hain jin ki olad main akhri nabi zahir hon gay to wo nangi talwarain lie medan ki taraf chal diye. Iss waqt Hazrat Abdullah R.A medan main tanha thay. Wahb ibn-e-Abdul manaf (nana Hazore Pak (PBUH) nay ye dekha to Hazrat Abdullah R.A ko bachanay ke lie asman ki janib dekha or dekhtay hain keh asman say aadmion ki aik jamat foj ki foj talwarain lie utar rahi hai or phir aan ki aan main foj nay inn yahodion ko qatal kar dala jo Hazrat Abdullah R.A ko qatal karnay ke lie aee thay. Wahb ibn-e-Abdul manaf nay ye dekha to foran apni beti Hazrat Amna R.A ka rishta Hazrat Abdullah R.A say karnay ke lie Hazrat Abdul Mutlib R.A say darkhasat ki jo unhon nay qabol ki or iss tarha Hazrat Abdullah R.A ka nakah Hazrat Amna R.A say ho gaya.
Rawayat ki jati hai keh is zamany main Macca main qehet tha or log bhok ke maray aajaz thay khanay ke lie kuch na milta tha or is ke bais log bhok say mar rahay thay. Inhi dinon jab Hazrat Amna R.A hamela huin tab khuda ki rehmat barish ki sorat main zamin par barsi or zaminon ko serab kar gai. Sab darakht taro taza ho gaye, darakhton par phal aye, qehet ki tangi bais-e-noor-e-MUHAMMADI (PBUH) jati rahi or logon nay khob sair ho kar mewe khae. Mulk main khush hali nay par phelaye, zamin muskurai, har zare nay sabz ki chadar orh li or har gosha noor-e-MUHAMMADI (PBUH) say faizeyab hua.
Rawayet  main atta hai jab Nabi Pak (PBUH) ka zahor qareb hua to Hazrat Amna R.A nay khawab main dekha ke aik shakhs asman say nazil ho kar kehta hai ke aee Amna tere pait main jo hain wo Sarwar-e-kainat (PBUH) hain, jab wo peda hon gay naam un ka MOHAMMAD rakhna or apni zuban say ye alfaz kaho tarjma "panah chahatay hain ham ALLAH talla say, shar say kul hasidon ke. Pas App R.A nay ye khawab apnay susar Hazrat Abdul Mutlib say ja kar kaha or man o aan bayan kar dia. Hazrat Abdul Mutlib nay kawab ki tabir beyan ki or phir kaha ke kisi say mat kehna ye raz hai or ye kawab bilkul sacha hai or fi-al-haqeqat aisa hi larka tumharay ghar peda ho ga.
Or phir Rabi-ul-Awal ki barhawin (12) tarikh ko Macca ke nazaron nay wo haseen Nazara dekha jiss nay logon kay dekhnay ke dhang ko badal kar rakh dia. Barhawin (12) tarikh ka soraj aik naye dor koo sath lie taloh hua. Har janib khushi cha gai, har she main Noor-e-MUHAMMADI (PBUH) main naha gai, charind parind chechanay lagay, pholon main tazgi agai, sabzah lehlhanay laga, khushi kay chashmay har janib phot paray. Zamin-o-asman par jashan ki tiyarian honay lagin or phir dunia ko bata dia gia, mashrik-o-maghrib main ellan ho gaya ke jiss ke lie kainat banai or sanwari gai wo badsha, wo Noor-e-haq, Wo mehbob-e-khuda, ahmad-e-Mujtaba MOHAMMAD MUSTAFA (PBUH) nay aalme khalwat say aalme sorat main naqal farmaya hai. Uss hasti ki waladat-e-basaadat hui hai jinhon nay aalm ko zindagi bakhshni hai, jinhon nay Haq ke pegham ko batil ke samnay pehlana hai, jo peghambaron ke sardar hain, jo khatam-ul-anbia hain, Jo rehmat-ul-lil-alamin hain.
Sahar ka waqt tha masoom kalian muskurati thin
Hawain kher-e-maqdam ke taranay gungunati thin
Abhi jibrail bhi utray na thay kaabay ke mimber say
Ke itnay main sada ai ye Abdullah ke ghar say
Mubarak ho shahay har do sara tashref lay ae
Mubarak ho MUHAMMAD Mustafa (PBUH) tashreef le aye
 for more Zahor e Noor e Muhammadi PBUH Part 1 and beautiful Islamic stories in Urdu and English visit moonlightforall.com 
Tagged:
Hazrat Abdul Mutlib
Hazrat Abdullah R.A
Hazrat Amna R.A
Zahor-e-Noor-e-Muhammadi PBUH