Ashiq-e-Rasool Hazrat Awais Qarni RA
Ashiq-e-Rasool Hazrat Awais Qarni RA
Ashiq-e-Rasool Hazrat Awais Qarni RA. Wajhe takhliqe kainaat, mehboob khuda, Ahmed-e-Mujtaba, rasool-e-khuda Hazrat MUHAMMAD Mustafa (PBUH) ki zaat aik mukamal zaat hai. Jo arsh see farsh par utari gai iss dunia ki bhalai ke lie. Jiss ne sehraon main phool ugaye, Arab ke hewaniyat pasand bashindon koo insaniat pasnd zindagi bakhshi, jiss nee sadion kee andhere koo aik charag see roshan kar dia.yee wo mehbob hasti hain jin kaa Ashiq khuda hai. Ishiq-e-Mustafa (PBUH) iman ka hisa hai iss kee bagair Musalman kaa iman mukamal nahi hoo sakta. App (PBUH) nee irshad farmaya:
"Tum main see koi shakhs iss waqat tak kamil momin nahi hoo sakta jab tak kee main iss kee nazdik iss kee baap, iss ki olad or tamam logon see barh kar mehbob or aziz na ho jaon."
Ishq-e-Mustafa (PBUH) main sarshar logon kii fehrist main Hazrat Awais Qarni R.A kaa name bhi shamil hai. jin ki zindagi ka mehwar ishq-e-Mustafa (PBUH) tha. App R.A ki zindagi kee dhang nirale the. App R.A aik khamosh sifat insan the apne kam see kam rakhte App R.A ko apne alaqe ka sab se muflis insan kaha jata tha. Kuch rawayat main kaha jata hai kee App R.A onth(camel) charaya karte the or isi se apni walida ki kafalat karte the. App R.A khajorain or chaware tanawal farmate the.
App R.A apne lamhay lamhay koo zikray khuda or ishq-e-Mustafa (PBUH) main sarf karte or isi bais loog unhain diwana or majnon kehtay. App R.A koo logon main rehna pasand nai tha iss lie dor jungle main chalay jatey or ibadat main masrof rehtay. Rawayet kii jati hai kee App R.A kaa makan purana or shikasta tha. App R.A phate hue kapray koo lee kar ise achi tarha pak karte or phir uss ko sii kar pehan lete the. App R.A kee pass onthon ke balon kaa aik pajama or aik kambal tha. App R.A kii khamosh tabiat ki waja se koi App R.A ko majnon kehta to koi App R.A ko maghror gardanta magar App R.A kisi ki bat ka bura nahi mantey the.
App R.A kee ghar walay bhi App R.A koo majnon khial karte. App R.A kee ghar walon nay ghar ke bahar App R.A kee lie aik hujra bana dia, magar wo App R.A say milnay ke lie App R.A kee pas na jatay the. App R.A Hazor Nabi Karim (PBUH) kee sachay ashiq the isi lie darbar Mustafa main aham mukam rakhtay thay goo ke App R.A nee kabhi bhi Nabi Pak (PBUH) ko na to dekha tha or na hi kabhi un se milay thay magar app (PBUH) apnay sache ashiq see bakhobi waqif the. Jab Hazrat Umar Farooq R.A islam ke dosray khalifa muqarar hue too haj kee mosam main unhon nee awaz di Aee logo! sab khare ho jao. App R.A ka ye kehna tha ke sab log khare ho gaye is ke bad App R.A ne phir farmaya yaman walon ke ilawa sab beth jain. Sab beth gaye sirf yaman wale khare reh gaye iss ke bad yaman ke bashinmdon main se sirf qabila murad ke logon ko or is ke bad muqam qaran ke bashindon ko kharay rehnay ka hukam dia. Sab log beth gaye siraf aik aadmi khara reh gaya.
"kia tum khas Qaran kee bashinde ho?" Hazrat Umar Farooq R.A ne iss shakhs ko mukhatib kar ke pocha.
"han! Amer-ul-Mominin." iss shakhs ne jawab dia.
"kia tum Awais ko jante ho?" Hazrat Umar Farooq R.A ne pocha.
"Amer-ul-Mominin! App R.A Awais ka kia pochtay hain. Iss see ziada bewaqof, majnon or mohtaj ham main koi nai." Iss zaif shakhs (jo ke Hazrat Awais R.A ka chacha tha) nee jawab dia.
Hazrat Umar Farooq R.A nee ye suna to sun kar ro pare or irshad farmaya:
"ye ayub jo to gina raha hai tuj main hain iss main nai, kion ke main ne Rasool Pak (PBUH) se suna hai kee Awais ki shafaat se qabila Rabi o Muzar jitnay admi behishat main dakhil hon gay."
Hazrat Awais Qarni R.A Ishq-e-Mustafa (PBUH) ki piyas bhujanay ke lie sari zindagi sargarm rahay apne ap ko ibadat ilahi main mashgol rakha. Hazrat Asbag R.A ne farmaya:
"Awais Qarni R.A ka ye hal tha ke jab sham hoti to kehtay ye rakoh karnay ki rat hai or phir pori rat rakoh main guzar dete. Kabhi farmatay ye rat sajde ki rat hai or rat sajday main basar ho jati. Baz oqat sham ko kuch khana bach rehta to sham hii ko khariat kar dete, phir dua kartay. Bar-e-ilahi agar koi bhoka mar jaye to muj se moakhza na farmana or koi nanga ho to bhi muj se moakhza na farmana."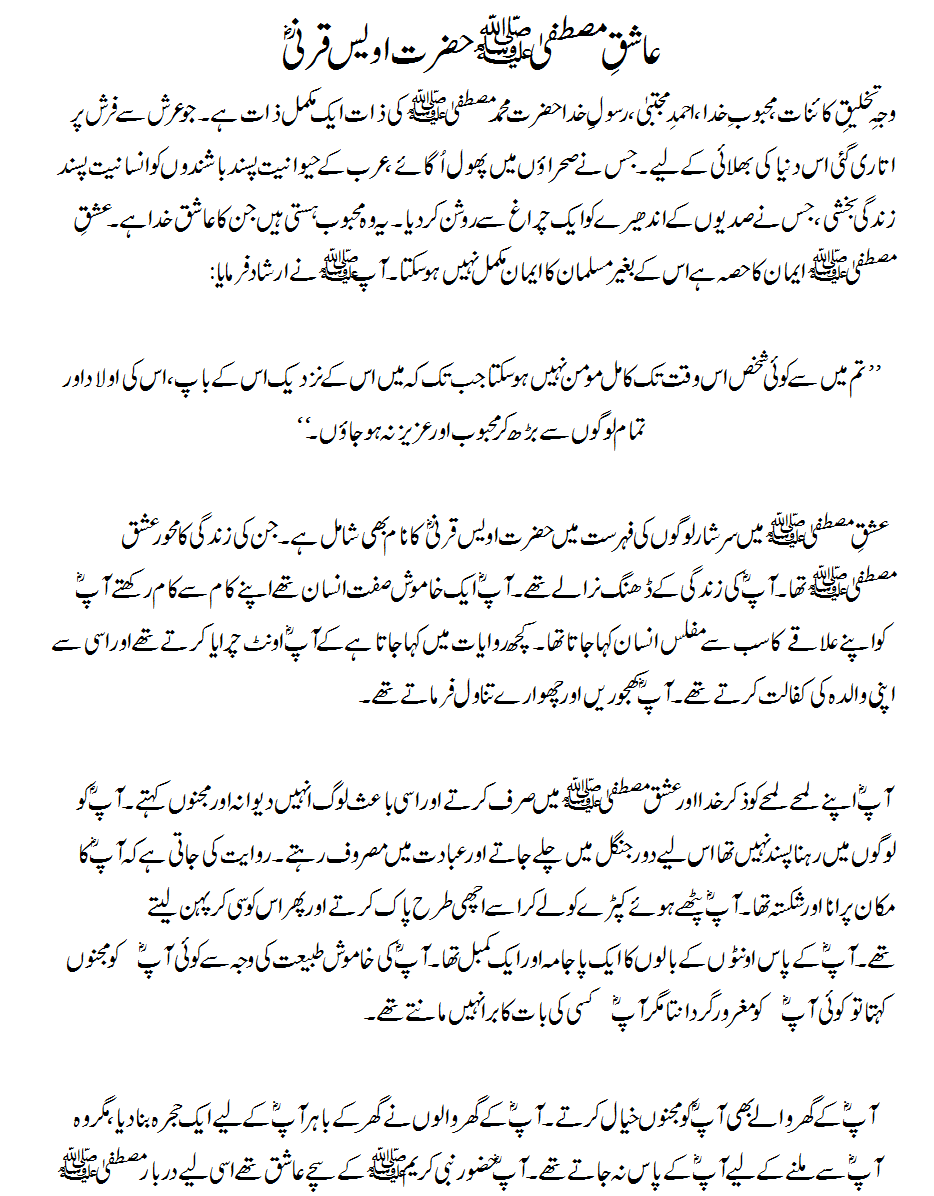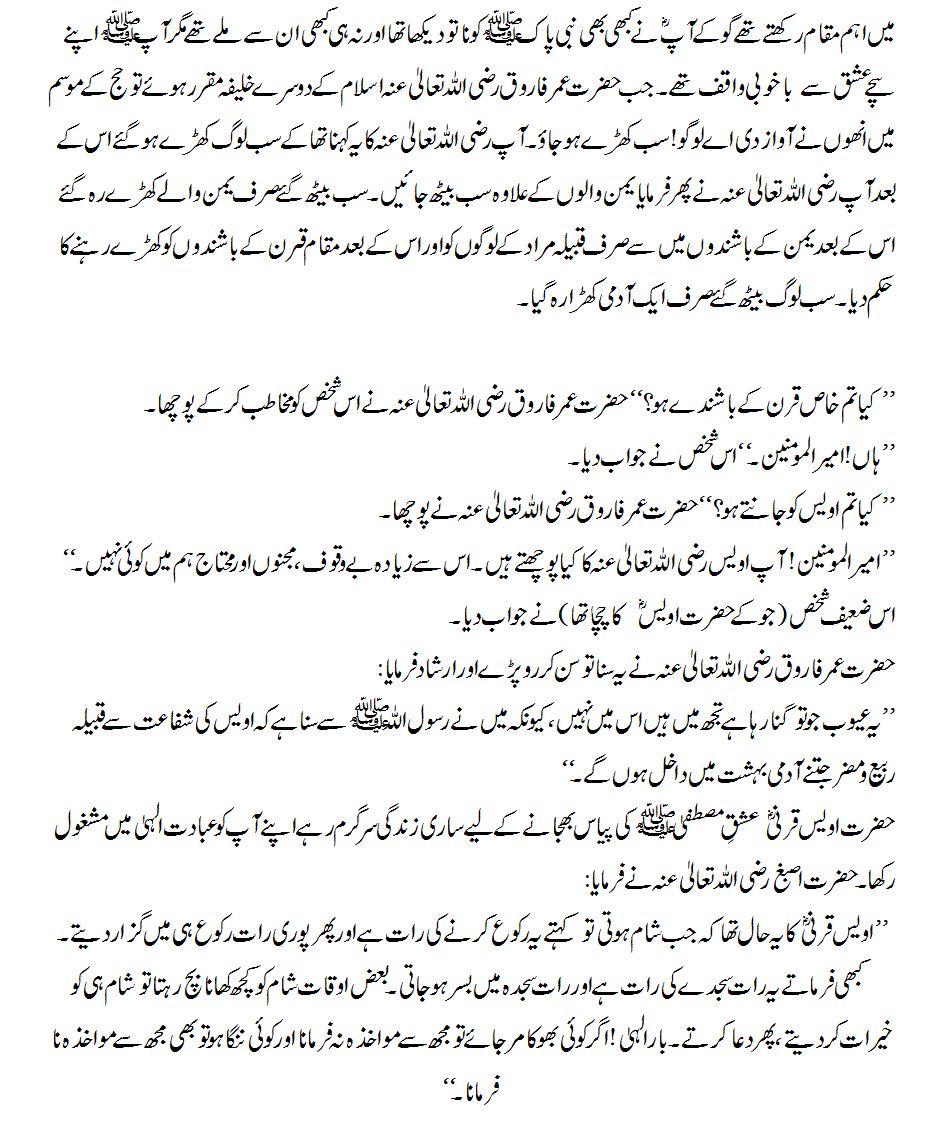 for more beautiful and interesting Islamic stories visit moonlightforall.com
Tagged:
ashiq-e-Rasool
Hazrat Awais Qarni R.A
History