Zahor e Noor e Muhammadi PBUH Part 2
Zahor e Noor e Muhammadi PBUH Part 2
Zahor e Noor e Muhammadi PBUH Part 2.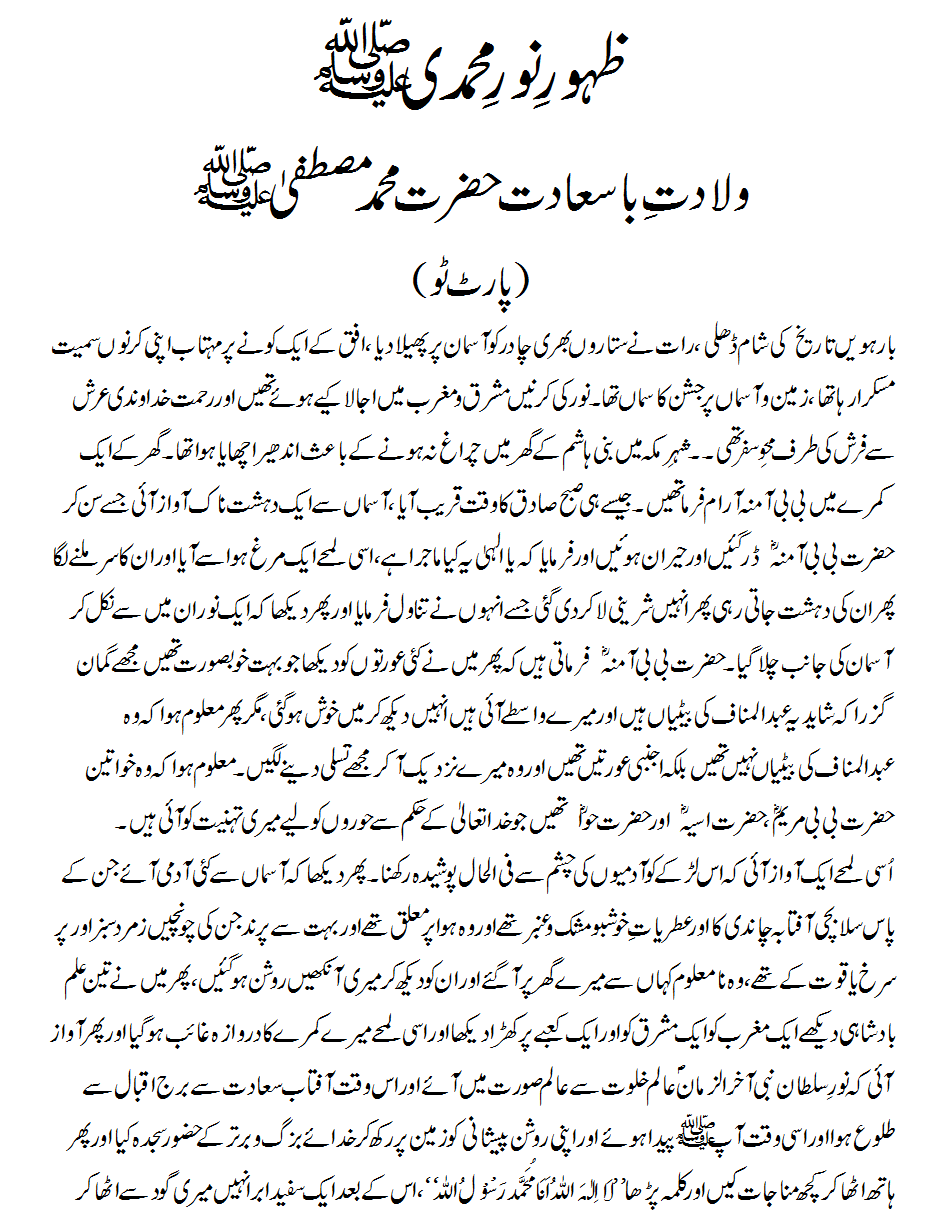 Zahor e Noor e Muhammadi PBUH Part 2.
Wiladat-e-basaadat Hazrat Muhammad Mustafa (PBUH)
(Part two)
Barhawin tarikh ki sham dhali, rat nay sitaron bhari chadar ko asman par pehla dia, ufaq kay aik kone par mehtab apni kirnon samait muskura raha tha, zamin-o-asman par jashan ka sama tha. Noor ki kirnain mashriq-o-maghrib main ujala kie huay thin or rehmate khudawandi aarsh say farsh ki taraf mehw-e-safar thi. Sehr-e-Macca main bani Hashim ke ghar main charag na honay ke bais andhera chaya hua tha. Ghar ke aik kamray main bibi Amna aram farma thin. Jaisay hi subh sadiq ka waqt karib aya, asman say aik dehshat naq awaz ai jisay sun kar Hazrat bibi Amna R.A dar gain or heran huin or farmaya keh Ya ilahi ye kia majra hai, isi lamhay aik murg hawa say aya or un ka sar malnay laga phir un ki dehshat jati rahi, phir unhain sherini la kar di gai jisay unhon nay tanawal farmaya or phir dekha keh aik noor un sa nikal kar asman ki janib chala gaya. Hazrat bibi Amna R.A farmati hain keh phir main ne kai orton ko dekha jo bohat khobasorat thin mujhe guman guzra keh shaid ye Abdul Manaf ki betian hain or mere wastay ai hain unhain dekh kar main kush ho gai, magar phir maloom hua keh wo Abdul manaf ki betian nahi thin balkeh ajnabi ortain thin or wo mere nazdik akar mujhe tasali dene lagin. Maloom hua keh wo khawaten Hazrat bibi mariam R.A, Hazrat Asia R.A, Hazrat Hawa R.A thin jo khuda talla ke hukam say horon ko lie mere tehniat ko aii hain.
Ussi lamhay aik awaz aii keh is larkay ko aadmion ki chasham say filhal poshida rakhna. Phir dekha keh asman say kai admi aye jin ke pas salabchi aaftabeh chandi ka itriyat-e-khushbu mushk-o-anbar thay or wo hawa par moalaq thay or bohat say parind jin ki chonchain zamard sabz or par surkh yaqoot ke thay, wo namaloom kahan say mere ghar par agaye or un ko dekh kar mere ankhain roshan ho gain, phir main nay teen alam badshahi dekhe aik maghrib ko aik mashtiq ko or aik ka-abe par khara dekha or isi lamhay mere kamray ka darwaza gaib ho gaya or phir awaz ai keh noor sultan nabi akhar-u-zaman (PBUH) alam khalwat say alam sorat main aae or is waqt aftab-e-sa-adat  say burj iqbal say taloh hua or isi waqt app (PBUH) peda hua or apni roshan peshani ko zamin par rakh kar khuda-e-buzurgo bartar ke huzor sajda kia or phir hath utha kar kuch manajat kin or kalma parha , is ky baad aik safaid abbr unhain mere good say utha kar le gaya. Itafaq say ghar main charag na tha magar ap kay noor say itni roshni thi ke agar koi chahay to soi main dhaga bhi pro sakta tha or is ki roshni say mulk sham nazar aya.
Isi lamhay gaib say awaz ai App (PBUH) ko mashriq-o-maghrib or tamam janglon main le ja kar pehrao takeh tamam khaliq main un ka naam zahir ho jaye or phir aik safaid abbar namodar hua jis say awaz ai ke is peghambar ke noor ko peghambaron ki arwah-e-muqadsa par jalwa hua or dosray safaid abbar say awaz ai App (PBUH) badshah hain har do jahan kay halqa itaat main tamam khalq rahay gi. Phir teen afrad jin ke chehray manid aftaab ke roshan thay aik ke hath main aftaab-e-chandi or dosray ke hath main tashat sonay ka or tisray ke hath main safaid reshami kapra tha unhon nay nabi pak (PBUH) ko lia or phir safaid reshami kapray say aik angothi nikali, aaftabeh ke pani say sar tan MUHAMMAD (PBUH) dhula kar un ke donon mondhon ke bech main iss khatam say mohar-e-naboot sabt kar di. Phir is safaid reshami kapray main App (PBUH) ko lapait kar mujhe de dia, un main say aik shakhs nay App (PBUH) ke kan main bohat kuch kaha jo App dareyafat na kar sakin baqi donon nay Ankhain chom kar kaha keh App (PBUH) ALLAH talla nay App ko ilam bakhsha hai jami peghambaron say ilam or halm tum ko or ziada dia. Phir aik shakhs nay ap ke mon par mon rakh kar kaha ya Rasool ALLAH ya Habib ALLAH (PBUH) tum ko basharat hai ke ilm or burdbari ALLAH talla nay sab tum ko anayat kia. Phir kai log aye or App (PBUH) ko Apnay sath le gaye Hazrat Amna R.A pareshan ho gain or issi ghari wo app ko wapis le aye. Phir awaz ai aee Amna R.A iss larkay ko hafazat say rakh or apnay dil main koi andesha mat kar ham log un ko Hazrat Adam R.A ke pas le gaye thay. Khuda un ka hafiz-o-nasir hai phir aik shakhs nay ap (PBUH) ke mon par bosa de kar kaha keh basharat hai tum ko aee MUHAMMAD (PBUH) jo koi tum par iman laye ga wo hasher ke din tumhari umat main dakhil ho ga or azab-e-dozakh say khalasi pawe ga.
Dosari janib Hazrat Abdul Mutlib R.A beyan kartay hain keh adhi raat ko main nay aik awaz suni or isi raat Rassol Khuda (PBUH) peda hue or jab main nay asnman ki janib dekha to wahan sab farishtay takiya rakh rahey hain or phir main nay apni nazar boton ki janib ki to sab zamin par gir kar tot gaye hain phir aik or awaz ai keh basharat pao ae ahel-e-zamin nabi akhar-u-zaman peda hue or aab-e-rehmat un ke dulaye ko laya giya or khana kaba bhi is waqt harqat main aya magar main iss waqt nend main tha foran utha or socha keh ye kia majra hai isi waqt main nay bani sheba ke darwaze se nikal kar koh safa marwa ko dekha wo bhi larzay main hain, ye dekh kar mujhe larza hua, Charon taraf say awaz ai ke aee quraish mat daro magar main iss say holnak hua or phir amna ke ghar ki taraf gaya or dekha keh ghar ke Charon taraf asman par murgh hain or aik abbar ka tukra un ke ghar par saya kie hue hai, ye dekh kar main behosh ho gaya jab hosh aya to bohat dushwarion ke bad Amna R.A ke hujray main gaya un ke kamray say mushq-o-anbar ki khshbu arahi thi, main nay kamray ka darwaza khola to dekha ke jo noor un ki peshani par do chashm ke darmayan tha wo ab mojod nahi hai main nay iss baray main dareyafat kia to farmaya ke wo noor nabi akhar-u-zaman (PBUH) ka tha jo abb peda ho chukay hain.
Phir Hazrat Abdul Mutlib nay kaha ke ae Amna R.A is larkay ko mere pas lao to unhon nay kaha ke main ajj iss ko nahi dikhaon gi ke jab App (PBUH) peda hue to gaib say aik shakhs nay kaha ke aee Amna R.A isse teen din tak kisi ko mat dikhana. Hazrat Abdul Mutlib nay meyan say talwar nikali or kaha ke kis nay  tum ko mana kia hai mujhay abhi dikhao to Hazrat Amna R.A ne kaha jesa app ka hukam App aqa hain App iss hujray main akar iss larkay ko dekhie soof or parcha hareer main sula rakha hai, tab main nay irada kia keh iss larkay ko ja kar dekhon magar tabhi wahan hujray main say aik shakhs aya wo aisa tha ke main nay iss jaisa shakhs kabhi nahi dekha tha uss nay kaha ke tum iss larkay ko dekhnay mat jao keh abhi farishtay un ki khidnmat main mojod hain or jab tak wo ruksat na ho jain iss waqt tak bani adam ko farishton ki majlis main jana mana hai. Hazrat Abdul Mutlib R.A farmatay hain ke ye sun kar mera badan kanp nay laga or mere shamsher hath say gir gai main nay larkay ko na dekha or socha ke ye baat quraishion ko bataon magar mere zuban band ho gai or aglay saat din tak main kisi say kuch na keh saka.
Rawayat main atta hai ke jis waqt App (PBUH) peda hue iss waqt tamam buut jahan ke shakista ho gaye or faras ka atish kada jo ke aik hazar saal say chal raha tha bujh gaya or noshairwan ke bala khanay par barah burj thay sab tot paray or laat-o-uza gir paray. Barah Rabi-ul-Awal ki subh ko dunia Noor MUHAMMADI (PBUH) say roshan thi. Charind parind khushian mana rahay thay or laat-o-uza ke pero kar iss anokhay manzar par noha kanan thay. Nashanian dekhnay walay ye samjh chukay thay keh sadion say jis noor ki aamd ka intazar tha wo dunia main tashref la chukay hain. Wo subh nirali thi, har gosha norani tha, har janib chehel pehel thi. Har she iss bat ki zamin thi ke peghambaron ke salar, haq ke amin, sadaqat ka pekar, noor-e-jahan, khatam-ul-anbiya, nabi akhar-u-zaman (PBUH) Hazrat MUHAMMAD MUSTAFA (PBUH) tashrif le aye hain.
Shadiyanay khushi ke bajaye gaye
Shad ke naghmay sab ko sunaye gaye
Har taraf shor SALLE ALLAH ho gaya
Ajj peda habib-e-khuda ho gaya
Phir to jibrael nay bhi ye eelan kia
Ye khuda ke hain Rasool ALLAH hi ALLAH
 for more Zahor e Noor e Muhammadi PBUH parts and beautiful Islamic stories in Urdu and English visit moonlightforall.com 
Tagged:
Hazrat Abdul Mutlib
Hazrat Abdullah R.A
Hazrat Amna R.A
Hazrat MUHAMMAD PBUH
Zahor-e-Noor-e-Muhammadi PBUH