Punjabi Hamd Poetry
Punjabi Hamd Poetry. Hamd stands for the poem that writes in praise of ALLAH. These person wrote the things and events that shows the power of ALLAH. It also shows His characteristic of forgiveness, kindness. These poems tells that ALLAH almighty is the most merciful and the creator of the whole universe. The most holly and the guardian of the whole world. The king and the most powerful and magnificent. He knows everything what is going on in present or whatever done in past and what will done in future. He even knows what is inside the heart of every person. He knows the feeling of heart. He is the God of every thing. Hamds are written mostly in Urdu but some people translated these poems in english. But in Punjab of Pakistan and India, some saints wrote Hamds in Punjabi language. It is said that Punjabi is very heart touching language. It shows the true feeling of people and they wrote many poems and poetic narrations of the stories. So according to this the saints wrote Hamds in Punjabi language and shows their love for ALLAH almighty.
Punjabi Hamd Wallpapers
Here we provide you the best Punjabi love poetry wallpapers, Punjabi poetry wallpapers in picture format, best poetry wallpapers, poetry of different Punjabi poets, HD Punjabi poetry wallpapers. It's all for you, you must like it. Send latest Punjabi Poetry wallpapers to your friends and family. You can share these Punjabi poetry wallpapers on your Facebook and twitter and other social media. You can also download Punjabi poetry wallpapers from here. You can also get more punjabi wallpapers in picture format. moonlightforall.com not only provides you the naat poetry wallpaper but also national poetry wallpaper, sad poetry wallpaper .love poetry wallpaper, English poetry wallpaper.
Awal hamd sanaa ilahi joo malik har har daa
Uss da nam chitaran wala kisay medan na har da
Raba mere hal da mehram toon
Andar vi toon, bahar vi toon, rom rom vich toon
toon hi tana, toon hi bana,sab kuj mera toon
kahay Hussain faqir namana! main nahin sab toon
Adal karain te thar thar kamban uchian shanan walay
Fazal karain te bakhsay jawan main je vi mon kalay
Jee main wekhan amlan walay te kuj ni mere palay
Jee main wekhan tere rehmat walay tee balay balay balay
Rehmat da darya illahi har dam wagda tera
Jee ik qatra bakhshay menon kam ban jaye mera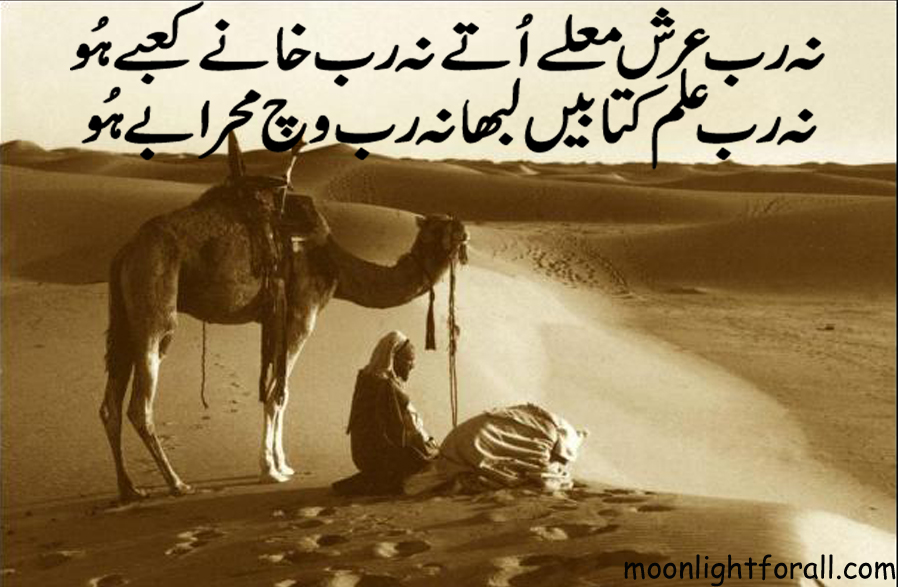 Naa Rab Arsh moale utte na Rab khan e kabe hoo
Naa Rab ilm kitabin labha naa Rab vich mehrabay hoo
for more Punjabi Hamd Kallam Poetry Wallpapers And Images visit moonlightforall.com
Tagged:
hamd poetry
Punjabi poetry
sufiyana kalam