Punjabi Poetry Wallpapers
Punjabi Poetry Wallpapers
Punjabi Poetry Wallpapers. Punjabi is a beautiful language. It is said that it is the most sweet language among the other languages of Pakistan because the Punjabi language shows the feelings and emotions of all type. So it is a nice language. The Sufi Punjabi Poetry is the most nice poetry and not only Muslims but also Sikh's and Hindus like Punjabi poetry because it is the language of Punjab province of both Pakistan and India. here we provide you the best Punjabi love poetry wallpapers, Punjabi poetry wallpapers in picture format, best poetry wallpapers, poetry of different Punjabi poets, HD Punjabi poetry wallpapers. It's all for you, you must like it. Send latest Punjabi Poetry wallpapers to your friends and family. You can share these Punjabi poetry wallpapers on your Facebook and twitter and other social media. You can also download Punjabi poetry wallpapers from here.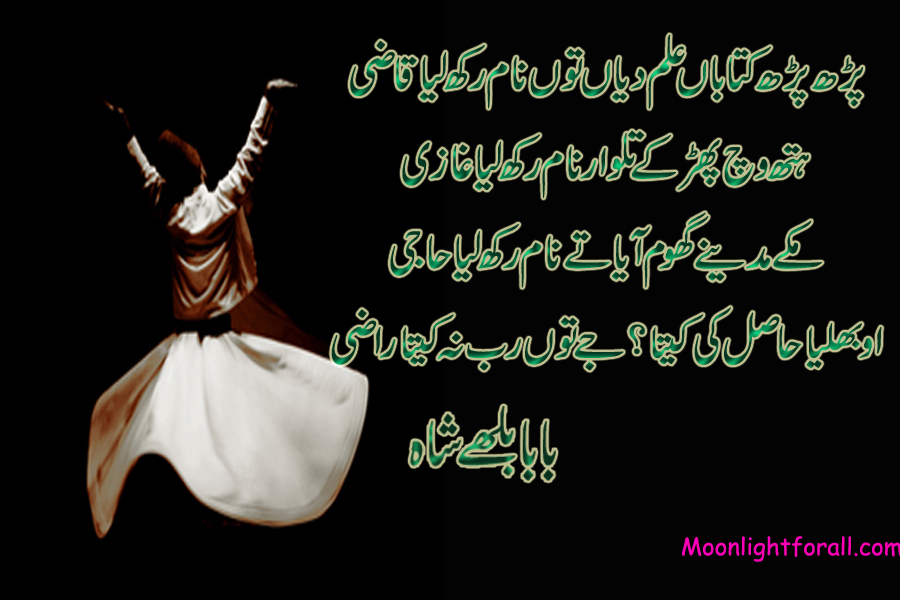 Baa Buleh Shah said
parh parh kitaban ilm dian tun nam rakh leya qazi
hath wich parh kee talwar nam rakh lea ghazi
make madine ghum aya tee nam rakh lea haji
oo buleya hasil kii kita? jee toon rab naa kita razi
Baba Buleh Shah was a famous poet of Punjabi. People like his poetry. He was famous in both Pakistan and India. His poetry was famous among Punjabi peoples. Not only Baba Buleh Shah but also Sultan Bahu and Shah Hussain were the Poets. People like these poets and love their poetry. All these Sufi Poets write Beautiful Sufi poetry about different topics such as the problems of society, love, emotions, sadness and many more. And these all Poetry pics are for you.
Sultan Bahu said
na main alam na main fazal na mufti na qazi hu
na dill mera dozaqh mange na bahishtin razi hu
na main tareh razee rakhe naa main paak namazi hu
bajh wisal ALLAH dee bahu dunia kori bazi hu
We give you the beautiful picture of Punjabi poetry wallpaper it is very heart touching. you must like these pictures of Punjabi poetry wallpaper because these are very beautiful. we made and upload the beautiful Punjabi poetry wallpaper in picture format. This is the Sufi poetry and people love it and show their love to ALLAH because it's a poetry about the love of ALLAH and this is the poetry which people like the most. This Punjabi Poetry Wallpapers are for you. You can send these pictures and share them on Facebook and Twitter.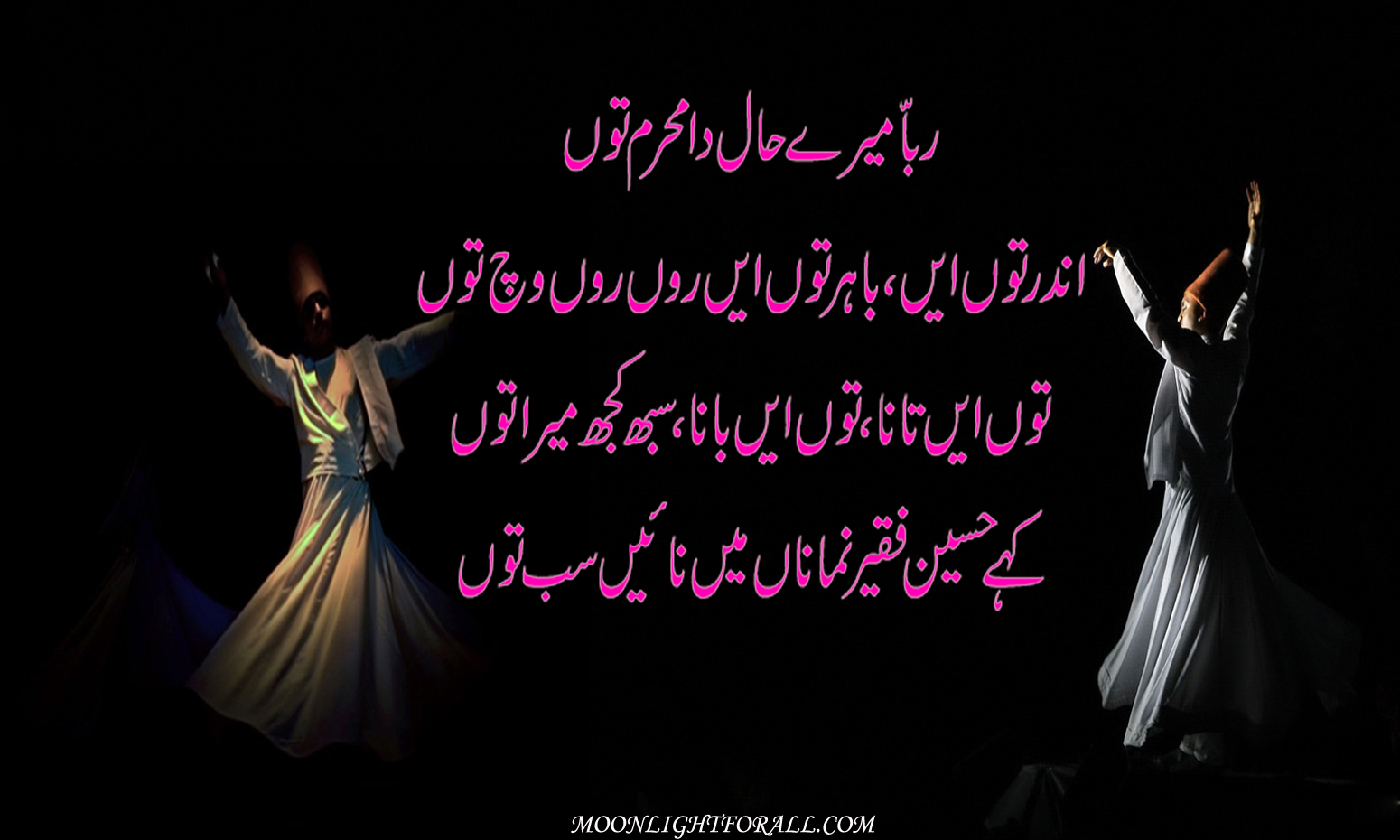 Shah Hussain said
Raba mere haal da mehram toon
andar toon ain, bahar toon ain, roon roon wich toon
toon ain tana, toon ain bana, sabh kuj mera toon
kahe husain faqir nmanan main nain sab toon
moonlightforall.com not only provides you the naat poetry wallpaper but also national poetry wallpaper, sad poetry wallpaper .love poetry wallpaper, English poetry wallpaper. We provide you the best love poetry wallpaper that you will like. we give you the best thing which you want from internet. The Punjabi love poetry wallpapers we give you are the best.We are here to entertain you because we are the real entertainment providers and you also want the real entertainment.
For more Punjabi Poetry Wallpaper best poetry free download visit moonlightforall.com
Tagged:
baba bhule shah
Punjabi poetry
sufi poetry
sultan bahu
waris shah