M M ALAM hunted down five indian jets within 1 minute
M M ALAM hunted down five indian jets within 1 minute
M M ALAM hunted down five indian jets within 1 minute
M M ALAM hunted down five indian jets within 1 minute.Muhammad Mahmood Alam who is called upon also as M M Alam. He is the pilot of Pakistan air force. His cause of fame was the famous record of one minute in which M M Alam made a record to hit the jet fighters into ashes and this record is still unbroken and it is written in Guinness book of world records. He was born in rich and educated family.on 6th of July 1935. He completed his primary education from Sindh government High School Dhaka(1971 east pakistan) in 1951. He came to Air Force in 1952 and he was appointed on the post of commissioned. His brother was the professor of economics and his name was Shahid Alam. His another brother was a professor of medicine in the North Eastern university name Sunny Al bai.His name was Sajjad Alam. Muhammad Mahmood Alam who was known as M M Alam played a vital an important role in war of 1965. On separation of East Pakistan his family stayed in Pakistan.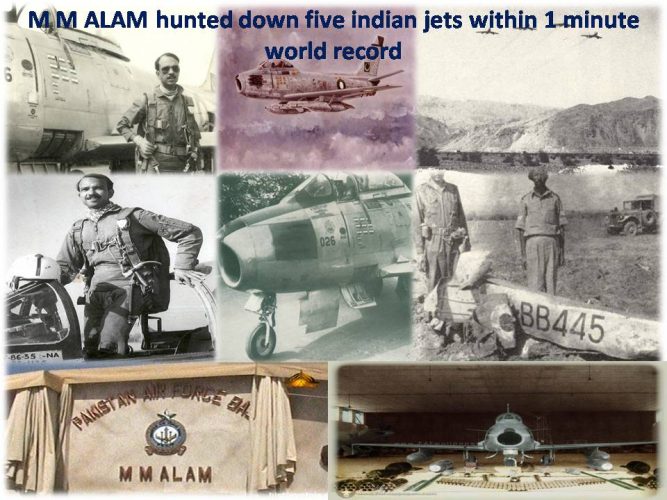 After the war of 1965 he was transferred as a squadron commander for as first squadron of Salt Mairaj Soum jet fighter plane. That was made by Pakistan Airforce.In 1969 he was dismissed from his post of staff of the college. In 1972 he lead squadron 26 for two months. He was not given permission to fly the jet in 1971 war due to its citizenship of Bengal. After retirement he lived in Karachi afterwards. Squadron Leader has this achievement named to him that in Pak-Indo war of 1965 he hit down the five Indian hunter jet fighters on the on place of war in Sargodha with in 30 seconds. This was unbelievable and was a great record at that time. He was flying f-86 Saber jet at that time when these jets were technically sound and better than the hunter jet fighters of India.
He collectively hit down 9 jets within few seconds and damage the other two jets which included other six hunter fighter jets of India. Information was intercepted from India that their four jets were hit down as the confirmation of great achievement of Squardon Leader M M Alam. The fifth jet was targeted of some attack from the ground from Pakistan cannons. He was not given the permission to fly the fighter jet in war of 1971. But he stayed after the war in Pakistan in spite of all this that he was not allowed to fly in this war. He was discarded from his post on criticizing a in famous leader of Air force during Address of Friday in a mosque.

He was given Sitara-e-Jurrat on his great achievement and bravery and also the biggest record for pakistan Air force. An important road of Gulberg in Lahore was given the name of proud Air Commodore of Air Force Muhammad Mahmood Alam which was also known as M M Alam. After the mischievous health he died away in Karachi on 18th of March 2013 due to a disease of lungs. His janaza prayers were offered at AF Masroor Airbase. He has left three brothers and one sister in the sorrowing family. Today he is known as the famous personality of the Pakistan history and it is true as its name is describes as the same in the history. Today's new generation is following the famous names like this.These are the real heroes of Pakistan. It is enough for his personality that enemy still accept his great achievement and still this record is unbreakable. Now it depends on us how we recognize them. And one thing is reality that the nation who forgets their heroes that nation destroys soon.M M ALAM hunted down five indian jets within 1 minute.
M.M. Alam passes away
M M Alam passed away at the age of 88 on 18th of March 2013 after a long fight with a disease of lungs. May his soul rest in peace forever!. May ALLAH increase his ranks in Jannah!.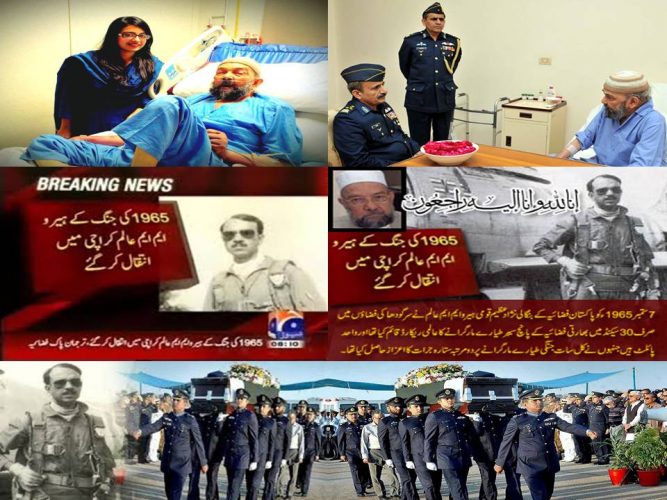 For more latest articles visit moonlightforall.com
Tagged:
1 minute
five indian
hunted down
jets
M M ALAM