Major Raja Aziz Bhatti Shaheed
Major Raja Aziz Bhatti Shaheed
Major Raja Aziz Bhatti Shaheed . Pakistan famous son Major Raja Aziz Bhatti Shaheed(Nishan-e-Haider) was born on 6-August 1923 in Hong Kong.His father was habitable there for the purpose of job.After the second world war his family came to Ladian Gujrat which was thier family village.Major Raja Aziz Bhatti was include in the Pak Military Academy after the existence of Pakistan.In first regular course passing parade of military academy he was awarde with several awards.In 1950 Shaheed Millat Liaquat Ali Khan give not only better cadet but also complementary shield and also norman gold medal.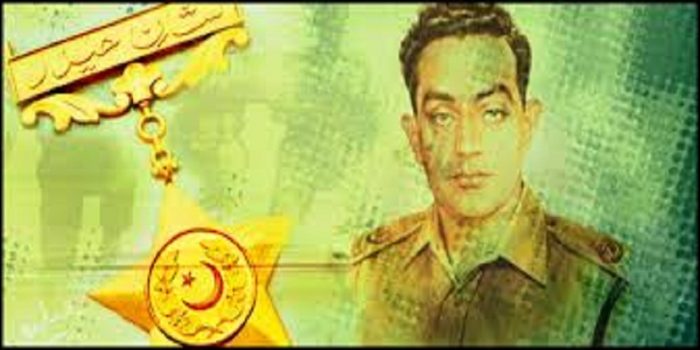 Major Raja Aziz Bhatti Shaheed . He took inclusion in Punjab Rejmant as second lieutenant and in the mean while progressing gone to the rank of major.In septempber 1965 when India attacked on pakistan Major Raja Aziz Bhatti was leading a company k6 in the barki area Lahore sector.The two platoons of this company was designated on the second corner of the BRB canal.Major raja Aziz decided to advance with those companies designated on the next corner of the canal.In the mean while when enemy was attack by leaps and bounds with its full animation . Major Raja Aziz Bhatti carry on the fight and became still oin thier places.
The enemy indulged all its battalians in this sector on the mid night if 9 and 10 september for a greater attack.Major raja Aziz Bhatti was given orders to came back to that point of canal but he denied and when he reaches at that point.When he reaches at that point after fighting all the day long he leading his company in serious time took attack to the enmy.He compelled enemy to get out of this territry.He stood thier at the target of enemy till all the animation of Pak Army didn't reached there.He prepared his company witha new zeal and courage again on this part of the canal.The enemy weapons were throwing fire.
But knowing the intentions of enemy and great attack he carried not only  to advance but carried heavy attck on the enmy.unfortunately a bomb from enemy cannon hit him on his breast and he embraced shahadat by offering Kalima Tayyaba.This day was 12 september 1965.In september 1965 Field marshal Ayub khan had given away 94 officers and other army men 26 different awards.In these awards the biggest of them all was Nishan-e-Haider which was given to Major Raja Aziz Bhatti Shaheed.Major Raja Aziz Bhatti was the third officer to take this Nishan-e-Haider award.
For more latest articles visit moonlightforall.com
Tagged:
Aziz
Bhatti
Major
Raja
Shaheed