Kashmiri Pulao
Kashmiri Pulao .Much popular dish of Kashmir .It is a type of rice which contain different ingredients and full of taste.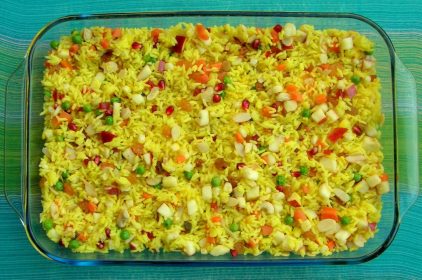 Ingredients
Basmati Rice – 2 cups
Chopped mixed fruits 1 cup (like apples, raisins, apricots, peaches, pomegranate , pineapple, , dried cranberries,  cherries etc)
Mixed nuts – 1/2 cup (  Pecan, almonds, walnuts, cashews etc.)
Saffron strands – 1/4 tsp (for garnish)
Whole Garam Masala 1 bay leaf, 1 cinnamon stick, 3 cardamom , 3 cup
Cream – 2 tbsp
Milk – 1/2 cup
Water – 2 cups
Sugar – 1 tbsp
Ghee/ Butter – 2 tbsp
Rose water – 1 tsp
Salt – as needed  Cumin seeds – 1/2 tsp
Method
1. Wash and soak the rice for atleast 10 minutes. Wash it and keep aside.Heat  butter in a pan. Add cumin seeds and garam masala (cinnamon, bay leaf, cardamon, cloves).
2. Add the sugar to this and fry for a minute.
4. Add the cream, milk, and water to this and allow it to a boil.
5. In the meantime, fry the rice in little butter.
6. Add this fried rice to the boiling milk water mixture along with required salt.
7. After it comes to a boil, reduce the stove to low, cover with a tight lid and let it cook for 20-25 minutes.
(If using a pressure cooker, just 1 whistle is required)
8. Transfer the rice softly to a large mixing bowl.
9. Add the fruits, remaining saffron strands and rose water to it.
10. Cover with a aluminium foil or a tight lid and let it rest for 5-10 to let all the flavors to blend.
11. Garnish with e nuts,  more fruits,   fried onions and serve hot with raita or chutney .
Tagged:
kashmiri
pulao
recepies