Tasty Fruit Chaat yummy….
Tasty Fruit Chaat yummy….
Tasty Fruit Chaat yummy…..Fruit Chaat is very much popular in Pakistan . It is made up of Different fruit . You should choose fruits of your choice and taste and eat and enjoy this chaat.you have seasoned these fruits with chaat masala to add spice in it . It is more tasty with this chaat masala add all ingredients in  a bowl and pour chaat masala on all fruits . Sometime you also use ketchup in it .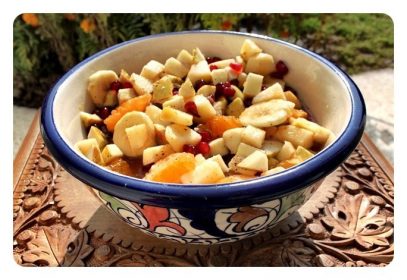 Ingrediant
  Orange 1 cup (small pieces)
Banana 4 -6 (cut into small pieces)
 Guava 1 cup (cut into small pieces)
 Pomegranate 1 cup
 Lemon juice 4 tbsp
 Sweet lime (mausami) 1 cup
Sugar syrup 1/2 cup
 Chaat masala as required
 Salt to taste
Procedure
Its up to you which fruit you want to add in your fruit chaat and you also add other things like cream mayonnaise or other items in it  , there are many fruit chaat recipes, fruit chaat is the main item in iftar and almost everyone loves to eat fruit chaat just after the fasting.
Add salt, lemon juice and sugar syrup in a glass bowl and mix well.
Now add all fruits and put it in refrigerator for 1 to 2 hours.
Before serving add chaat masala in to it.
For more Recepies visit moonlightforall.com
Tagged:
Tasty Fruit Chaat yummy....