Chicken cheese Salad
Chicken cheese Salad. It is a chinese salad  which is very healthy and tasty and it is good for your health . Get recipe of it and try it at home . you will like it.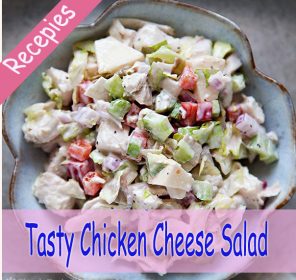 Ingredients :
Chicken breast pieces (boiled 350 gram)
Cheese 1 cup (your favourite)
Black pepper powder 1/4 tea spoon
Salt as per your taste
Mayonnaise 1/2 cup
Salad leave or cabbage leaves 2 to 3
Apple (1 medium size)
Coriander leaves (chopped)
Procedure:
Take boiled chicken and cut into  small rectangle cubes Cut other ingredients into same shape cheese, apple .Put all ingredients in bowl . Add salt and black pepper into it .After that add mayonnaise into it and mix all ingredients safely without mashing them .Then take a beautiful Dish put salad or cabbage leaves on it and Pour the chicken salad on it . Garnish the salad with chopped coriander leaves  and put it into fridge. Serve this tasty and cool salad to the guests.
Tagged:
cheese
Chicken
Salad