Chicken pakora iftaar special
Chicken pakora iftaar special
Chicken pakora iftaar special  . Chicken pakora is a delicious dish liked by everyone so get the recipe and try it .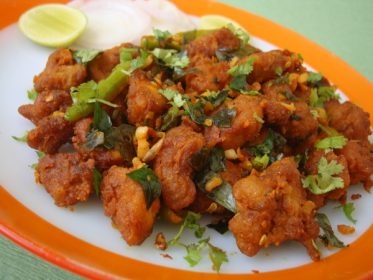 INGREDIENTS
500 gms boneless chicken pieces washed well
salt – to taste
1 tbsp red chilli powder
¼ tsp turmeric powder
2 tsp ginger garlic paste
½ tsp garam masala powder
½ tsp roasted coriander seeds powder
½ tsp black pepper corn powder
3 tbsp chickpea flour(besan)
1 tbsp corn flour
egg white of 1 egg
oil for deep frying
4-5 curry leaves
3-4 vertically cutted green chillies
Procedure:
Firstly, take a bowl ,  add boneless chicken pieces into it .
Add salt into it as per taste, add red chilli powder, turmeric powder, ginger garlic paste.
Add coriander seeds powder , add garam masala powder , add black pepper corn powder.
Mix all the ingredients well.
Add chickpea flour into it, add corn flour and mix it well.
Add egg white into it.
Mix the whole mixture well,  marinate it for 5-10 minutes.
Add oil in a pan and heat it.
Add the chicken pieces into the oil and deep fry them until they turn golden red on medium flame for 12 minutes.
Add green chillies and curry leaves into the oil.
Stir the chicken pieces up and down while frying don't make it dark brown.
Remove the fried chicken pieces from oil.
Place a tissue paper on a plate and serve the chicken pieces on them.
For more Recipe Visit Recipes
Tagged:
Chicken
ifftaar
pakora
Special