Proud of Pakistan army
Proud of Pakistan army
Proud of Pakistan army.Proud of Pakistan army  Captain Mairaj Mohammad Shaheed. Captain Mearaj Muhammad Shaheed one the great names in history of Pakistan martyrs. He was born in Takht bai in mardan province KPK.He was also belong to there. He took his primary education from F.G school in Peshawar. He took his intermediate education from a cadet college in Razmak North Waziristan Agency. He joined PMa Kakul after his studies late in between 2003 and 2005. In army he belong 112 PMA I/C Khalid Company. From the word go he was very bold and brave and these things were transferred to him through his parents specially through mother. Other than bravery he was very obedient of his parents. At that time in cadet College he was awarded with the sword of honour on the basis of talent and qualities of bravery and boldness during training.
He was included in the academy senior under officer.(ASUO). He belonged to 12th Cavalry regiment but after posting he was deployed to FC Elite Commando Group"Special operation group". Before any operation would be given to him his parents decided to marry him with a girl of his family. After the marriage he was asked to come by his regiment. The first mission was given to him in the very difficult and up and down hilly area where terrorist were hidden under big shelters and a supply was being given to them to spread awe. He without wasting any time took the orders and went there to engage the enemy terrorists. When he was on a way towards the terrorist he saw a building there and decided that this is the building in which terrorist were hidden.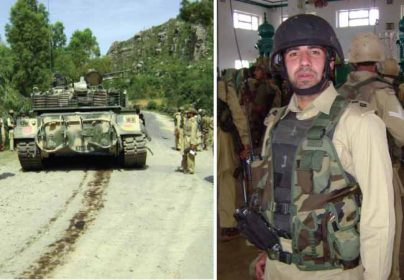 He at once3 got out of the vehicle and took the positions and ordered his convoy that"Listen there are 32 terrorist are there in the compound and we are also 32 in number so we have to fight until all terrorist would be killed away. He also ordered to fight till the last drop of blood". The message was given to the convoy and they took their positions to fight with those less no of terroristin that compound. A fire was fired from the compound and the brave soldiers of his convoy responded to it and killed almost 10 to 12 terrorists at the spot. After that Captain Mearaj Muhammad Shaheed took the initiative and killed the left terrorists in the compound. He cleared the area from the terrorists and send message backwards that we are safe and we have clear the area from the terrorists. After that mission a phone went to the Pak army camp in the forest and they were saying that army had not done well by killing their companions.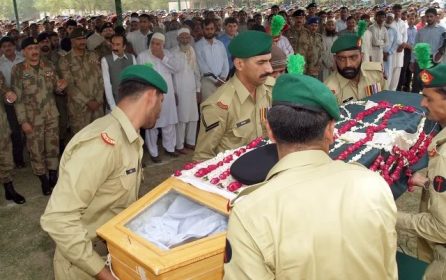 They said that this will become happen more dangerous for them. After that call army traced out the no and reached at the spot. The day was 4th of june 2009 when Captain Mearaj muhammad was leading this convoy. The terrorists attacked the police and killed more than 16 policemen. A message from there went to Captain Meraj and he quickly responded to it. He reached at the battle field and observed all the situation. The mission was to clear the area from the terrorist. The area was full of weapons and ammunition. Enemy was hidden behind the large bushes and trees. The enemy was on the top and he was on the ground. He not only responded but also send back the bodies of martyrs of police to the head quarters. While doing all this he was also advising his convoy to lead and reach the terrorist in no time. Due to the ups and downs of the mountain it was very difficult to reach there but captain carry on their mission without thinking about any difficulty.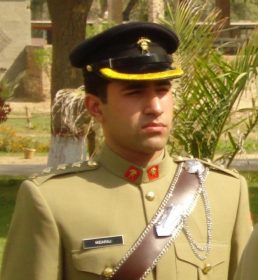 The fire opened from the terrorist and one by one terrorists started to killed away and captain's companions also embraced shahadat. On the way when he was moving forwards he received two bullets at a time on his chest but in spite of all this he carry on top move forward and killed the left two terrorist. But unluckily he got one more bullet on chest and five bullets on his leg and he embraced shahadat on 4th of june 2009. At the time of embracing Shahadat he was very young. He was the only son of his mother. He embraced Shahadat in Ambala Burner a small village near Takht Bai. He embraced martyrdom on 4th of June 2009 and was buried on 5th of June 2009 in Takht Bai in Mardan Peshawar. On his great missions and bravery and leadership he was awarded with Sitara-e-Basalat. May her soul rest in peace and may ALLAH increases its ranks in the Jannah.
For more articles visit moonlightforall.com
Tagged:
army
pakistan
Proud