Home Remedies for cracked nails
Home Remedies for cracked nails
Home Remedies for cracked nails . Cracked or broken nails is very much common in women. There are many reason behind broken and cracked nails . Sometime it is due to deficiency of calcium but another big reason is nail polish on nails . Excessive use of nail polish is also dangerous for nails health .  Excessive nail polish on nail makes nail weak and colors of nail also changed so use nail polish on your nails only 10 days of month and free your nail for remaining 20 days of month.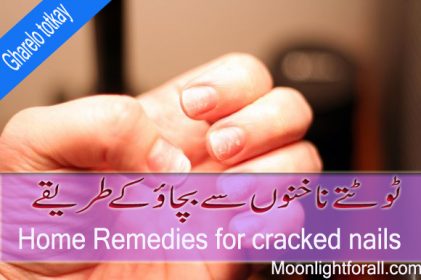 For cracked and broken nails I have a home remedy which is easily made at home and easy to use .
Take 3 teaspoon of olive oil and mix 1 teaspoon of lemon juice.Put the mixture on your nails with the help of cotton bird or dip your nails in the mixture .After sometime wash your nails with water and put gloves on your hand . Use this mixture at night and it remain on your nails till morning.After few days your nail look shiny and beautiful .
Coconut oil is also very much useful for broken and cracked nails . Natural humidity in cocunut oil act as a moisturizer for nails.It also help to save your nails from infection.coccunut oil used at night saves you from many diseases of nails
Take warm coconut oil and mix with lemon juice and dip your nails in the mixture wash it with water and put gloves for sometime and then remove gloves . there is a great change in your nails. it is useful for  saving your nails from infection.
Apple cider is also  beneficial for cracked nails. Natural ingredients of apple cider like Potassium vitamins , calcium , magnesium and iron makes the corner of your nails strong. Maliek acid and acetic acid in apple act as an anti infection for nails. Take apple cider  and mix water in it in equal quantity  and dip nails into mixture . It is useful for your nails.
If natural humidity is not in your nails . then your nails break early .to save them from breaking vitamin E is very important . Break one capsule of vitamin E and put this oil on nails and rub it . It will increase blood circulations and very much beneficial for your nails . remember that nails are the mirror of your personality. Beautifully cut and shiny and glowy nails attract the attention and make you more beautiful . So take care of your nails on daily basis.
Tagged:
Cracked
home
nails
remedies