Crystal mosque in Malaysia
|
Crystal mosque in Malaysia
Crystal mosque in Malaysia, which is the most beautiful and strange mosque in Malaysia۔ A sacred place where Muslims offer prayers and gain the Islamic education is called Mosque. The word Mosque comes from an Arabic word which is Masjid. Large number of Mosques are located in the world in different places. In Islam, the Mosque has a great importance and Muslims gives great respect to Masjid. Small Mosques give less services to locality but .Larger mosques offer great and more services  to their community. In Islam, Mosque gets more importance then a place of worship. Muslim not only worship but also discuss Islam and study Islamic Books like Holy Book Quran Majeed, books of Ahadees and sunah. Muslims do other things in Mosque's compound like religious gatherings and festivals are held here. One of the most important example is the wedding. In many countries like United kingdom, some of the mosques are act as a community centers. People gather there. In these Mosques many religious people teach about Islam. Like every places, Mosques have also many rules and these Islamic rules are only to control people and the acts they do inside the Mosque. some of the most important rules are
1:  It is considered rude to disturb another person who is worshipping.
2: Do not cause mess in Mosque.
3: Do not talk about world gossips.

The Masjid Kristal  or Crystal Mosque is a mosque in Kuala Terengganu, Terengganu, Malaysia. The grand structure of this Mosque is made of glass, steel and crystal. At Islamic Heritage Park on the island of Wan Man this mosque is located. The mosque was built between the year 2006 and 2008. It was officially opened on the day of 8 February 2008 by 13th Yang di-Pertuan Agong, Sultan Mizan Zainal Abidin of Terengganu In Malaysia city teregano  5 years ago a very beautiful mosque whose speciality is that it is completely made of glass, steel and crystal. Crystal and glass increases the beauty of mosque that is why this Mosque is called Crystal Mosque .In Crystal Mosque at one time 1500 people offer prayers.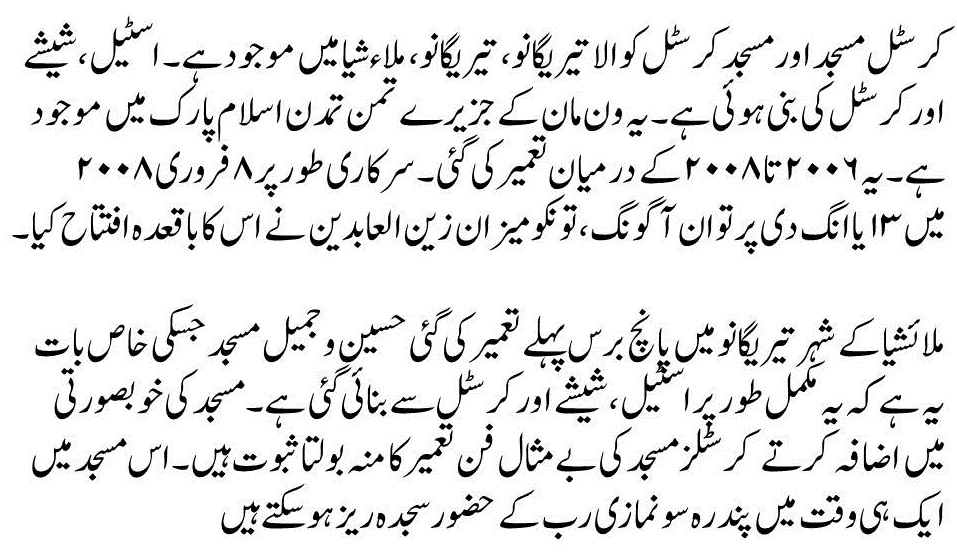 ۔
for more visit moonlightforall.com