Labor Day Gift Ideas for Employees (T-Shirts)
Labor day is celebrated internationally on 1 May. It honors the laborer for their efforts and significant contribution to the country; you can call it one of the great tributes to workers' hard work and achievements. The Labor movement created it in the 19th century and became an international day in 1894. Now, everyone celebrates it by enjoying a holiday or presenting gifts to laborers. I have some amazing labor day gift ideas for employees which I'm going to discuss in this article, so let's begin. 
Labor Day Gift Ideas for Employees
When is labor day in USA?
The first week of September is the weekend of labor day in US and Canada. They pay tribute to workers' economic and social achievements and honor them by giving them a holiday on 5 September, a labor day in US. Moreover, "Labor day weekend" is the three days of celebrations in which the nation recognizes and honors the contributions and achievements of labor of the United States of America.
Labor Day Gift Ideas for Employees:
Labor Day celebration occurs internationally and nationally worldwide, and the country's laborers enjoy a federal holiday in the US and a public holiday in other countries. But on an individual level, as a person, we should also pay tribute to the laborers that live around us on workers' day in USA. Moreover, to give them respect as a significant contribution to the country, we should purchase gifts and give them to them, so they feel special. However, there are many labor day gift ideas in my mind for laborers that you can reward your employee this labor day. 
Handwritten notes

Useful tools 

Offer them a lunch

make a sweet cake

Take them to a picnic

Give a book

present an appreciation card

Printed t-shirts
Labor Day Celebration Gifts For Employees 
T-shirt Ideas as labor day gifts for employees:
There are many ideas about gifts for laborers. Still, in my opinion, gifts that we present to employees or laborers near us should be not only a token of appreciation but also valuable. Thus, they will use it in the future also. So T-shirt is a good option among many high-quality labor day-inspired gifts for laborers because it is a valuable gift and an excellent addition to their wardrobe. Thus, they can use it in their daily routine.
Moreover, you can gift them t-shirts with different prints on them. Furthermore, a better option is buying a t-shirt with quotes printed for laborers to boost their morale and increase their self-confidence. It is more beneficial if the print synchronizes with their liberty and enthusiasm. So, when the employee wears it, he/she will feel proud to be a laborer. 
labor day gifts for employees
This unique shirt is designed just according to the labor day 2022 USA celebration. Its color is white and has a decent print of happy labor day in two colors. Moreover, the print contains tools and equipment spread on the whole t-shirt to signify and present a tribute to the labor community to make it more attractive and graceful. To buy this click here.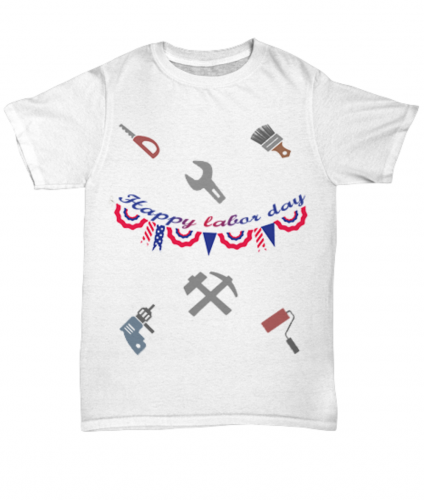 Source: gearbubble
T-shirt for labor day
It is a simple black t-shirt with a nice and inspiring quote to enhance and boost an employee's morale, and a working man signifies we value your hard work and dignity at any cost.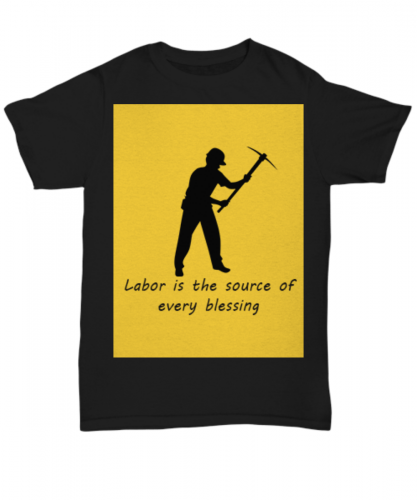 Source: gearbubble
T-shirt for labor
It is a nice simple t-shirt with an American map and an inspiring quote. It is best for people who live in the USA. They will like this t-shirt design very much. Moreover, in the USA, people pay honor to workers and laborers and celebrate their accomplishments for the whole week. So, if you gift this T-shirt to them, it symbolizes their love for their country and their significant contribution to the prosperity and progress of their country. Quote, that print on it tells them how precious they are for their nation. Buy it now.
Source: gearbubble
Happy labor day shirt
A decent but very lovable printed green t-shirt is a good choice for a gift to reward your employee on labor day 2022. Moreover, the print of a cap of the laborer on its front with happy labor day and a nice quote is a straightforward yet elegant design with a hidden message for employees that they have secured a very special and important place in our lives. Buy this t-shirt now for giving to your employees on labor day 2022.
Source: gearbubble
Conclusion
I hope this labor day gift guide and labor day gift ideas for employees on a budget will prove very helpful to you. However, a week is less to honor their work and contribution. So, more steps should be taken at an international, national, and individual level to give them tribute and to boost their confidence to better work for the country. 
Tagged:
labor day 2022
labor day canada
labor day gifts for employees
labor day usa
t-shirts gifts for employees