Home Remedies for Dandruff
Home Remedies for  Dandruff
Home Remedies for  Dandruff .Dandruff is very bad for your hairs health .You should ponder upon these tips to keep away from dandruff . Dandruff really affect your hair . They become thinner and dull due to extra dandruff in your hairs that's  why it is necessary to remove dandruff from your hairs . I have some home remedies to save you from dandruff .So read these tips and make your hairs healthy and dandruff free . These tips are describe below: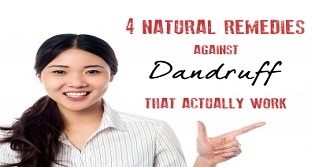 Mix Camphor  with coconut oil . You can apply this every night before going to sleep to get rid of dandruff.
To treat a bad case of dandruff, wash your hair with your regular shampoo, then rinse with an alcohol-based mouthwash. Follow with your regular conditioner. Mouthwash's anti-fungal properties help prevent dandruff-causing yeast from growing.