Muhammad Ali Pasha Mosque in Cairo Beautiful Mosque
|
Muhammad Ali Pasha Mosque in Cairo Beautiful Mosque.
Muhammad Ali Pasha Mosque in Cairo Beautiful Mosque.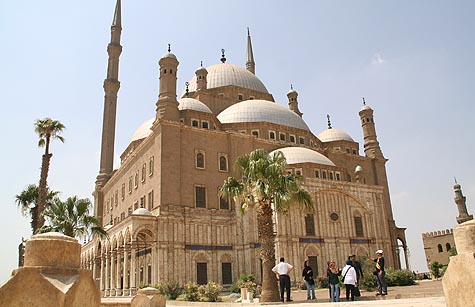 Muhammad Ali Pasha Mosque in Cairo Beautiful Mosque.
Mosque Muhammad Ali is the great mosque and also known as Muhammad Ali Pasha mosque or Alabaster mosque. This beautiful and great mosque is situated in the castle (citadel) of Cairo, which is the capital and also the largest city of Egypt. The construction was started in 1830 and completed in 1848. Between these years it was commissioned by Muhammad Ali Pasha, who is the Wali of Egypt, Sudan, Sham, Hejaz, Morea, Thasus, Crete. He was the person who is known as the founder of modern Egypt because he made dramatic reforms in different spheres such as military, culture and economy. Basically, the mosque was built in the memory of Muhammad Ali Pasha's oldest son, Tusun Pasha who died in 1816.
This ottoman mosque was considered to be the largest mosque built in the 19 century's first half. The mosque is very beautiful due to which it is the most visible mosque in Cairo, Egypt. The best tourist place in cairo. The affiliation of this mosque is with Sunni Islam. The mosque in its architectural type and style, is similar to ottoman mosque architectural type and style. The model of this mosque was very much similar to the model of Sultan Ahmed Mosque in Istanbul, Turkey.
The length of this mosque is 52 m (171 ft) and width is 82 m (269 ft). Dome height is 41 m (135 ft) and dome diameter is 21 m (69 ft). It has two minarets and each of these two are 82 m (269 ft) high. This mosque has capacity of 10,000 people. A large number of people gathers for Friday prayer and Eid prayer. It is said that more than 10,000 people visited this mosque or come to pray on the auspicious occasion of Eid.
For more information about different mosque in different countries of the world visit moonlightforall.com