Top 5 drinks of Ramadan in summer
Top 5  drinks of Ramadan in summer
Top 5  drinks of Ramadan in summer . This year holy Ramadan comes in summer in most of part of the world . Fasting in summer is more difficult for Muslims because they have to abstain from food and drinks till sunset . Body of human needs more water in summer to avoid dehydration . To fulfill water needs of body Muslims should drink such drinks in Sahri & Iftar  that keep their body hydrated .For all Muslims  fasting all around the world  I gave recipe of 5 drinks that not only keep their body hydrated but also give them energy . These drinks help Muslims to fast easily and get full benefits of Ramadan .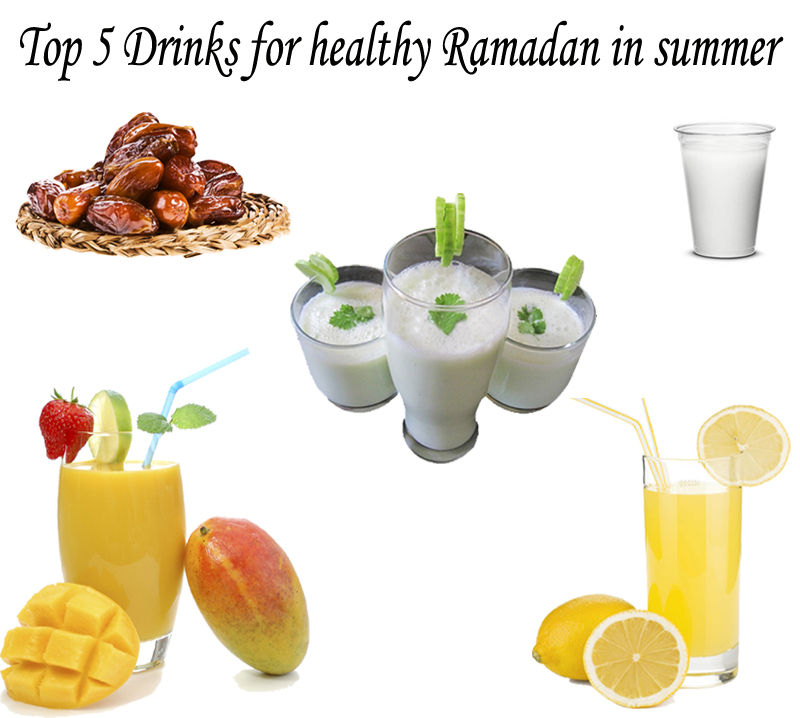 Dates & milk shake
Dates and milk are traditional drink for Muslim  after sunset when break their fast . Muslims break their fast with dried dates  according to teaching of our Holy Prophet Mohammed who broke his fast with dates . Dates and milk is full of energy and fulfill all needs of your body in Iftar . You can also make shake of dates and milk by adding dates , milk , sugar and ice to a blender and blend it for 1 minute and a delicious date milk shake is ready to serve in Iftar . Keep one thing in mind add only a pinch of sugar to shake because dates are already sweet .
Lassi
For Sehr a great traditional drink called lassi is served . Lassi is very popular drink in Ramadan especially during sehri . It overcome thirst during whole day . This drink is actually made from yogurt  . Some people eat yogurt with little sugar in it . But if you add yogurt into blender add some ice cubes a pinch of salt and a jug of water and blend it for 1 minute . A perfect jug of lassi is ready .It is very delicious and keep you hydrated whole day . If you want to drink sweet lassi add sugar with salt . Lassi is also made by adding fruits in it like mango , strawberry etc…
Coconut milkshake
Coconut is also very popular in Asian countries and it is used in many desserts and sweets . But coconut  milkshake is very much tasty and easy especially in Ramadan. Its recipe is very simple . Take fresh desiccated coconut about 1/2 cup and coconut water 1/2 cup , chilled milk 3/4 cup and sugar or honey  two tbsp .  Add all ingredients to mixer or blender and shake it for 1 minute .Two glasses of  fresh coconut milkshake is ready . Pour it into glasses add two to three ice cubes in it and enjoy .
Mango shake
Most of us are familiar with this recipe  mango shake is very easy and tasty and much liked  by kids . Mango is a summer fruit and this year Ramadan is in summer so Iftar is incomplete without this shake . This shake needs only some fresh peeled mangoes cut into small pieces , milk , ice cubes and sugar . Add all ingredients into blender and blend it for 1 minutes and serve chilled mango shake by adding ice cubes .
Lemon juice drink
Another popular recipe of Ramadan .  This lemon juice drink is almost used in every house and most light weight drink in Iftar . Ingredients of this drink is as follows :
Fresh Lemon  3 to 4
salt 1 tsp
sugar 3 tbsp or as per taste
Roohafza additional
Take two glass of water in jug first add sugar and salt in it  if you want add roohafza it increase taste of drink and mix it well. Now add lemon into drink and again mix it . It is very much tasty and delicious drink of summer and Iftar . This drink is also known as sakangben . For Ramzan special falsa juice recipe click link  Falsa drink recipe
Tagged:
drinks and shakes
Health tips
recipes