Husband wife jokes
Husband wife jokes . A  joke is a display of humour in which words are used within a specific and well-defined narrative structure to make people laugh . Jokes are actually called latefy in urdu language whose main purpose is to make people laugh . As our website is about entertainment and provides real entertainment to our readers and help our reader to entertain when they visit our website so providing jokes and lateefay to our providers in a different way always amuse our Pakistani readers. All  type  of lateefay is added in this category and you got your desired lateefay in this category . We are trying to provide you best and latest collection of lateefay and jokes of the year. We wanted to give you  thousands of mazahiya lateefay for our website readers, making this website as the biggest and good source of Pakistani Urdu Jokes. Aristotle said man is a social animal by nature. Working continuously causes anxiety, stress, which is a major causes of depression . There is a proverb that says, a sound mind lives in a sound body and it can be possible if we are relaxed. So for relaxation we want entertainment and jokes and lateefay are  best entertainment for our readers .
Husband wife  jokes collection
Husband wife relationship is a sweet and best relationship among your house relationship .It is a sweet and bitter relationship that always make you happy and give you a lovely feeling  . People make funny lateefay and jokes on them . Here is a large collection of husband & wife jokes . You can enjoy it very much . moonlightforall.com provides you full entertainment beacuse moonlightforall is a real entertainment provider. we provide you english quotes about problems , english quotes  about love , english quotes  about friends , english quotes  about beliefs , english quotes about parents , english quotes  about different topics in picture format. we also give you facebook status about friends. Funny Jokes in Urdu Mazahiya Pakistani Lateefay 2016 . check best urdu lateefay 2016 funny lateefay 2016 most funny images husband wife lateefay Pathan lateefay.For more jokes & latify  visit moonlightforall.com
Wife:I need 50 rupees .I am going to bazar
Husband : In anger said you don't need 50 rupees but you need wisdom!
Wife:I asked you the thing that you have !
---
Biwi sohar se :mujhay pachas rupy chahian mujhy bazar jana hai
Sohar : ghusay se tumhain paison ki nahi aqal ki zarorat hai!
Biwi: main app se wohi mang rahi hon jo ap ke pas mojood hai.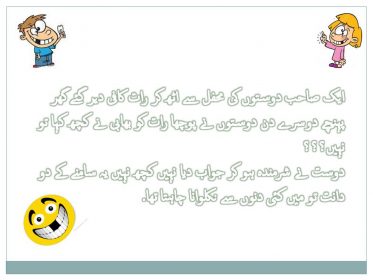 One day a person from the company of his friends reached home very late . Next day his friends asked him if your wife asked you about night or not?????
Friend give the answer in embarassment:she asked nothing I already wanted to remove my front two teeth.
---
Aik din aik dost doston ki mahfil main raat dair tk batha raha aur late ghar gaya
Aglay din doston ne pocha raat bhabi ne kuch kaha to nahi
Dost sharmindagi se bola nahi:ye samny ke do dant to main pahly hi turvana chahta tha
Husband wife jokes For more jokes visit moonlightforall.com
Tagged:
Husband
jokes
wife