Eid Special Recipe
Eid Special Recipe . Eid is a special occasion for muslims .It is a time of celebration for muslims and they eat sweets and cakes .This tasty recipe is one of them get its recipe and make your eid more colourful.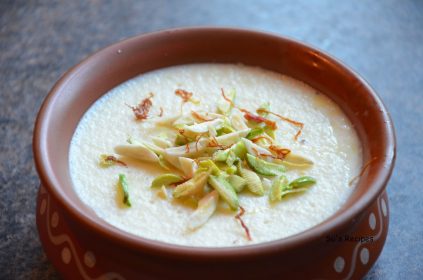 Ingredients
2 Liter milk
100 gms  rice
1/2 Cup sugar
1/2 tsp Cardamom powder
1/2 Cup pistachios
Saffron
Phirni Procedure:
Crashed soaked rice to make a paste.
Boil the milk.
Add sugar and rice paste to the boiled milk.
Allow it cool down till it gets a thick form .
Mix cardamom powder and saffron.
Stir it for few minutes.
Place it in a plate and put it in the refrigerator.
Serve it with chilled garnished  pistachio nuts.
Get more Recipes