10 Health Tips for Summer Season
|
10 Health Tips for Summer Season
10 Health Tips for Summer Season. Protect your head. Always remember to wear a helmet while biking. Rock climbing, skateboarding, horseback riding or riding an ATV and make sure children do too .In this post I tell you basic ten tips for summer season . I hope these tips are very helpful for you in summer season . The detailed summer tips are describe below: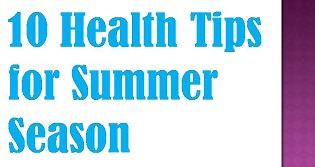 .
Wear sunscreen! .It saves your eyes from sun rays 
Exercise  daily for strong bones. Exercise is important for building strong bones and is essential for maintaining bone strength and fitness and boost your body for working and looks fresh . Weight-bearing exercise and strength-training exercise are two types of exercise that are most effective for building strong bones.
Swim daily  be careful before  you dive. To prevent head, neck and spine injuries, never dive headfirst into water.
Swimming is a great,  exercise for summer and helps to prevent over-heating.
Hydrate, hydrate and hydrate is good for your health in summer season .  Don't wait until you're thirsty to drink water just take 10 to 12 glass of water . Drink plenty of water before, during and after every work and take it seriously . 
Stay cool & fresh and avoid the mid-day heat. Limit your daily activities and work  in the hot sun to 15 or 20 minutes at a time to help protect against heat exhaustion and sun stroke. Avoid extended sun exposure between the hours of 10 a.m. and 4 p.m. When the sun rays are the strongest.
Replace your shoes daily because with sweat they are harmful for your feet . Select the proper shoes for any type of work or activity  and replace them often to prevent foot, ankle and knee pain.
Stretch. The more prepared muscles and tendons are good for work and keep you strong and fresh for whole day  , more protected you are from getting hurt .
I hope these tips are helpful in summer season for every person to stay healthy and fresh